Musical Swings
Detroit, New York, US | Singapore, SG | +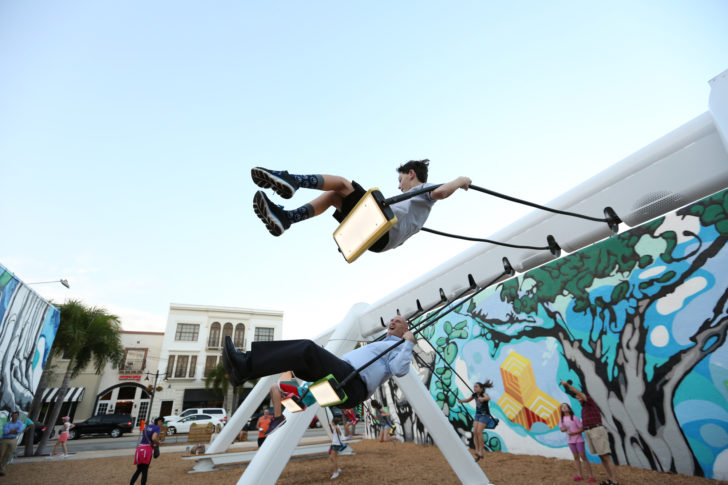 Following the success of the 21 Swings in Montreal, a touring version of the artwork was created for the Green Box Arts festival in Colorado. The Musical Swings have since visited New York City, Detroit, West Palm Beach, Dhahran, Singapore, and continues to tour around the world.
Part of
Host city
New York, USA
Singapore, Singapore
Denver, USA
Colorado, USA
Montreal, Canada
… 5 other cities
Created in 2011, the installation has become a celebrated icon of Montreal's entertainment district, returning seasonally every spring. As a result of its success, a touring version of the Musical Swings was created and has been travelling the world, receiving a number of international awards and recognitions. A new permanent version of the work is also available for cities around the world.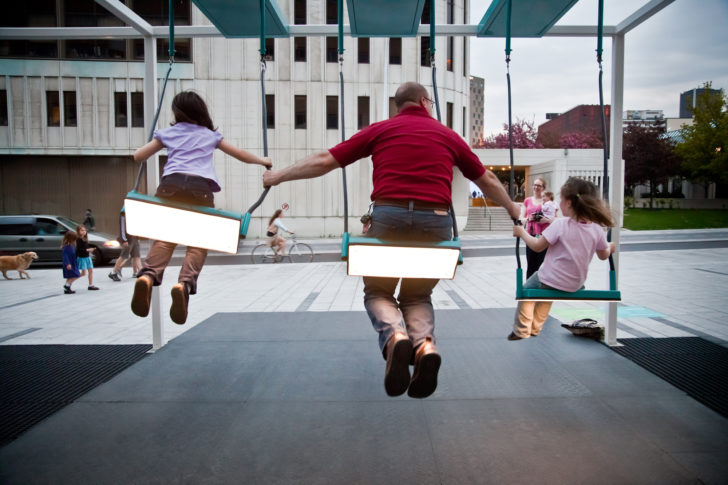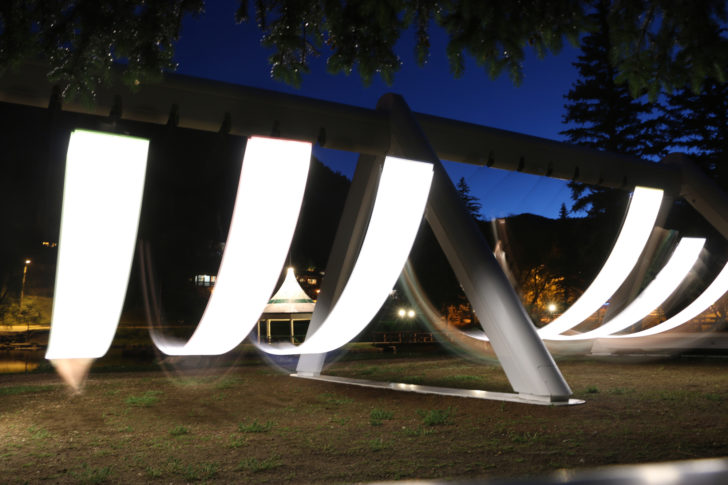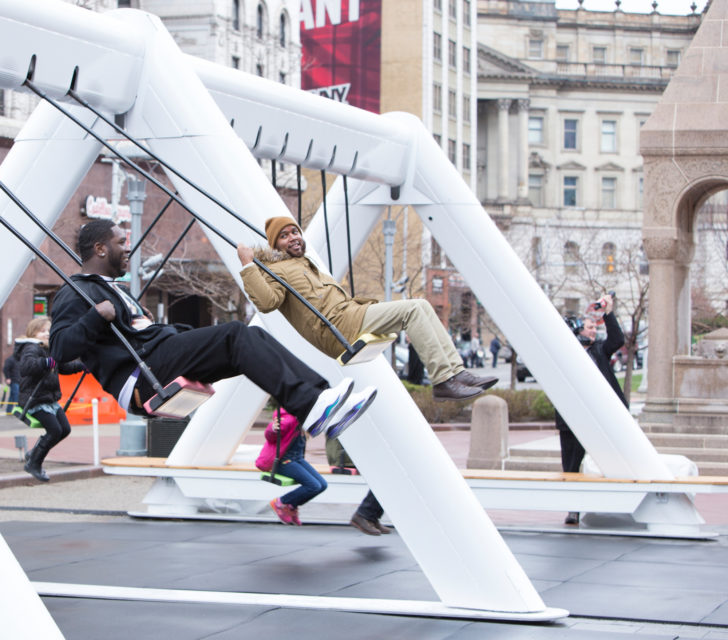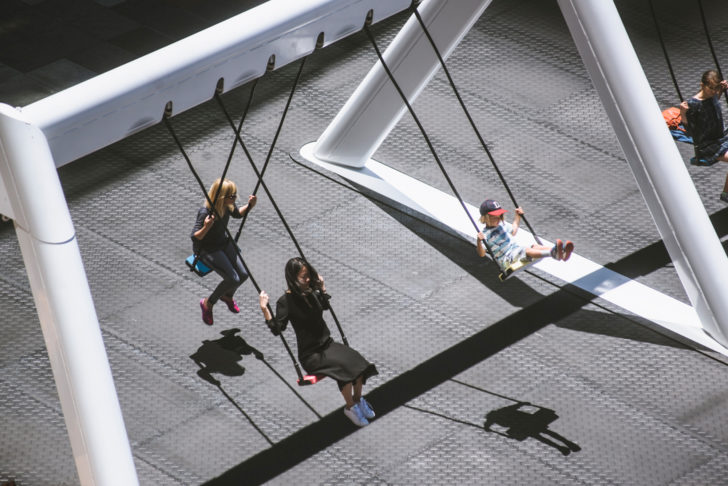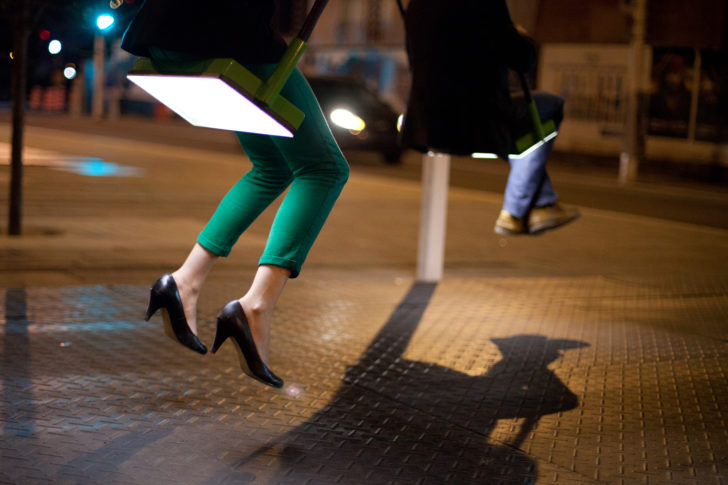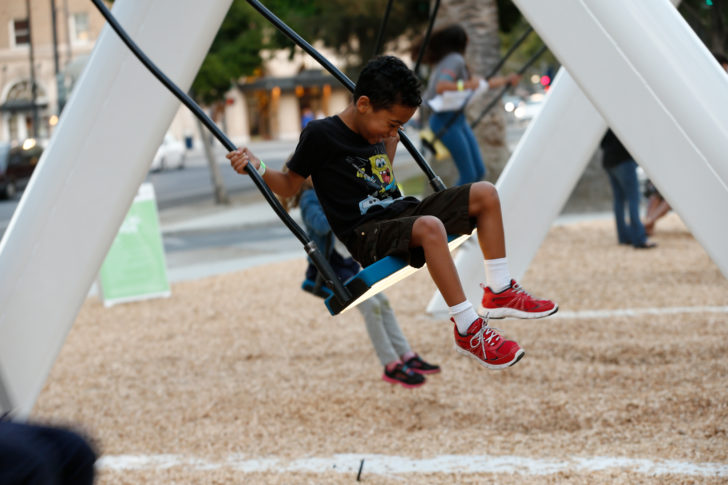 How it works
Each swing triggers notes from a classical instruments: piano, guitar, harp and vibraphone. A color code indicates which instrument is played and invites the public to try different seats.

The interactive soundtrack is inspired by the pendulum. The higher the swing, the higher the note.

When the swings move together in unison, they create a musical composition through which unique melodies can emerge if participants cooperate.

The gentle, kinetic quality of the acoustic sounds blends seamlessly into the urban environment.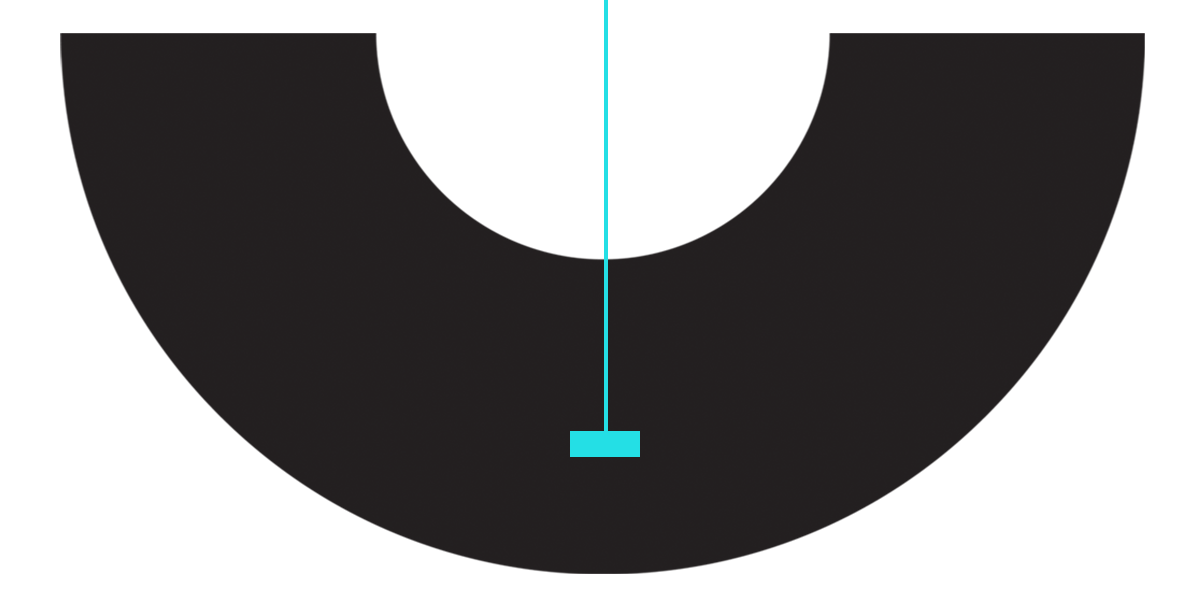 Structure overall dimensions 
Length : 70' (21 m); Width: 35' (10.5 m); Height:12′ (3.5 m)
Safety clearance perimeter
50′ × 100′ (15 m × 30.5 m)
All components are weatherproof

Collective emotions
The Musical Swings take over public spaces with smiles and laughter. People revel at the therapeutic effect when swinging motion and collaborative music making are combined. Participants report feeling like they are making music with their entire bodies; surrendering themselves unexpectedly to a collective performance, almost as if by magic.
I have a mood disorder, I was walking downtown to relax, the swings drew me in and calmed me down. I hope they stay forever.
For the Musical Swings 2016 tour in the United States, Daily commissioned an independent study to analyze the economic and social impact of the temporary installation. The following are some highlights from the report.
* Study conducted during the 2016 US Tour: West Palm Beach, Florida; Detroit, Michigan; San José, California. With the support of the Knight Foundation.
156

visitors per hour

226 500

visits in 3 weeks

4 498 000 $

economic impact over a period of 19 weeks

293%

of return on investment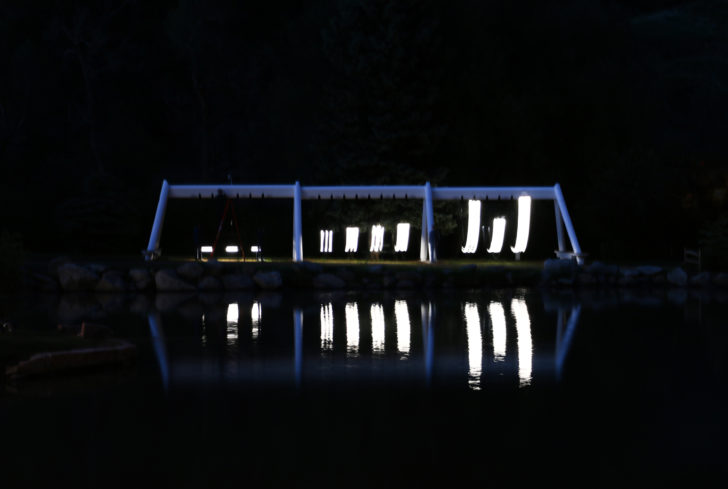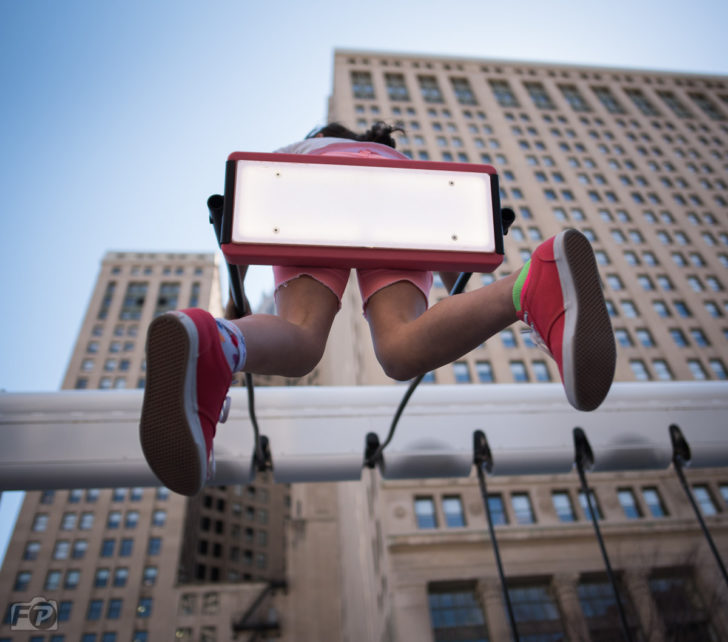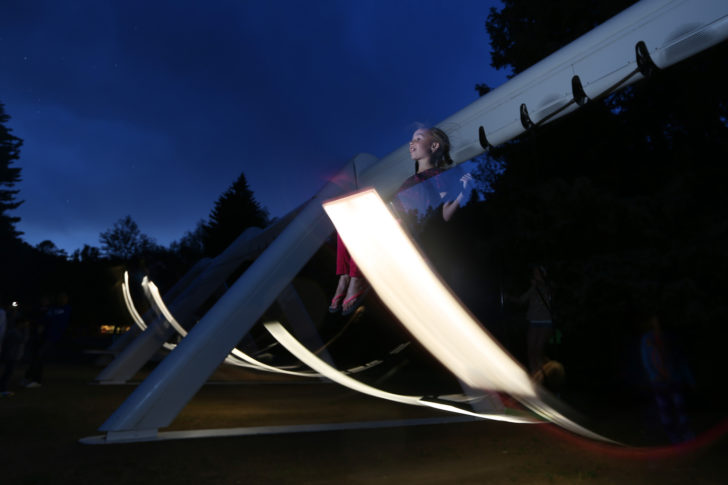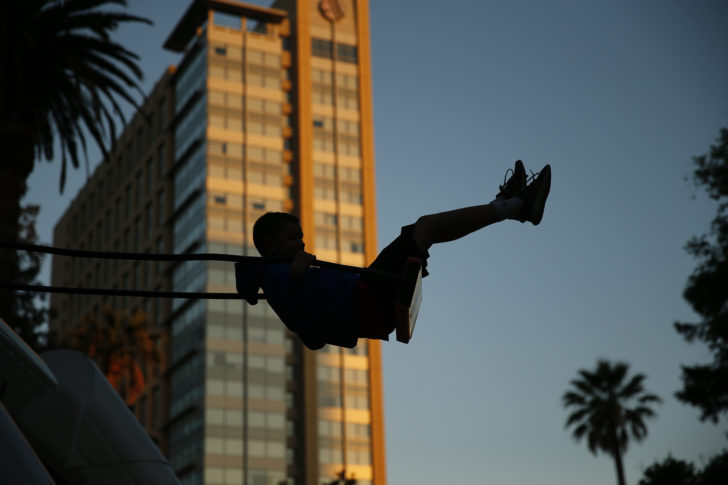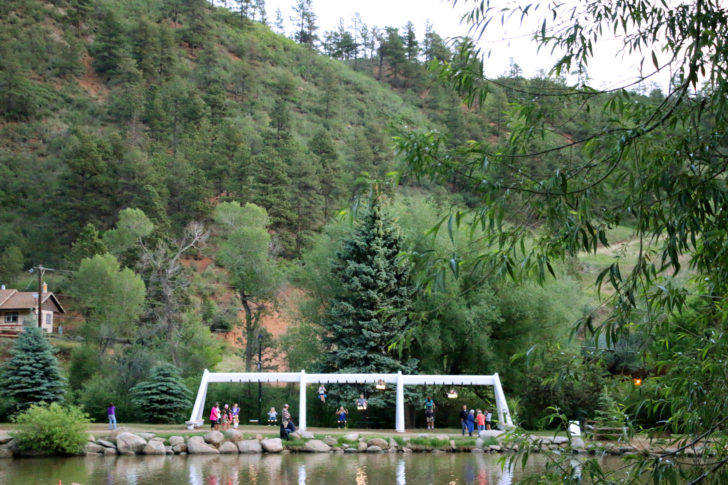 Grand Prize UNESCO Shenzhen Design Award
Knight Cities Challenge
Global Innovators Prize Creators Project
Oprah's OWN
FRAME Magazine
Dezeen Interaction Awards
Creators Project
DesignBoom
Dezeen
Vimeo
This is Colossal
Best in Show IxDA Interaction Awards
Vimeo Staff Pick
Fast Company Innovation by Design Award
A project by Daily tous les jours

Created and produced with support from Quartier des spectacles in Montreal

Creative Direction

Mouna Andraos
Melissa Mongiat

Executive Producer

Hugues Monfroy (2011)
Antoine Clayette (2012)

Music

Concept Team

Dominique Côté
Alexandre Landry
Yolène Leroux
Luc-Alain Giraldeau


Design

Sébastien Dallaire
Alexandre Landry

Technical Direction

Production Coordinator

Production

Paul Bailly
Michael Baker
Mourad Bennacer
Thibeault Bensa
Olivier Coquet
Nicolas Duvieusart Dery
Élise Genvrin
Sophie Grignart
Luc Hernandez
David Lortie
Albane Guy
Ricardo Jean
Yolène Leroux
Étienne Lemieux Maillé
Benoît Piccolini
Peter Rockwell
Alexandra Sawicki

Technological Partner

Technical Direction

Project Manager

Programming

Patrick Keroulas
Vincent de Belleval


Production

Marc-André Tessier
Philippe Savard

Video

Photo

Powered with the help of

Max/MSP
Arduino IDE
Firmware Razor AHRS