Daydreamer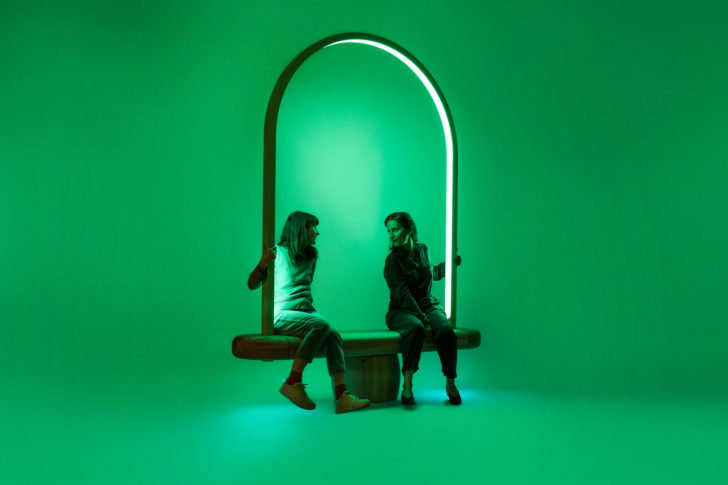 Daydreamer is a new sculptural series of illuminated, slowly rotating public benches, accompanied by gentle music. Conceived to create a ritual around a moment of pause in the urban realm, the artwork stimulates imagination and relaxation, and encourages a communal, synced up experience in a shared, calming soundscape.
A first set of 3 benchs has been installed in the City of Southbend (US) in the fall of 2022.
Categories
Where
South Bend, Indiana, USA
Can cities be built for collective daydreaming?
Rocking has been known to induce a state of daydreaming, proven to lessen stress and anxiety, while opening up the mind to be more intuitive, imaginative at finding solutions by simply letting go for a while.
The installation consists of three revolving long benches, each accommodating up to four people, finished in white oak and a powder-coated aluminium arch, with integrated LED lights. When the public sits on the benches, and starts pushing them in a circle, the mechanism inside each bench's pivot centre ensures the motion is a slow, rocking one. Simultaneously, music is triggered through motion detection, merging analog and digital movements. Placed in a circle, the artwork aims to encourage the public to synchronise their movements in a shared musical experience.
« Daydreamer places a chorus of deep hums and light song in a park, emanating from a trio of lit arches, hovering at each end above the ground, as if floating. The harmonies created on the spinning, singing benches in Indiana are designed to connect people in public spaces. »
_Wallpaper Magazine
Download the presskit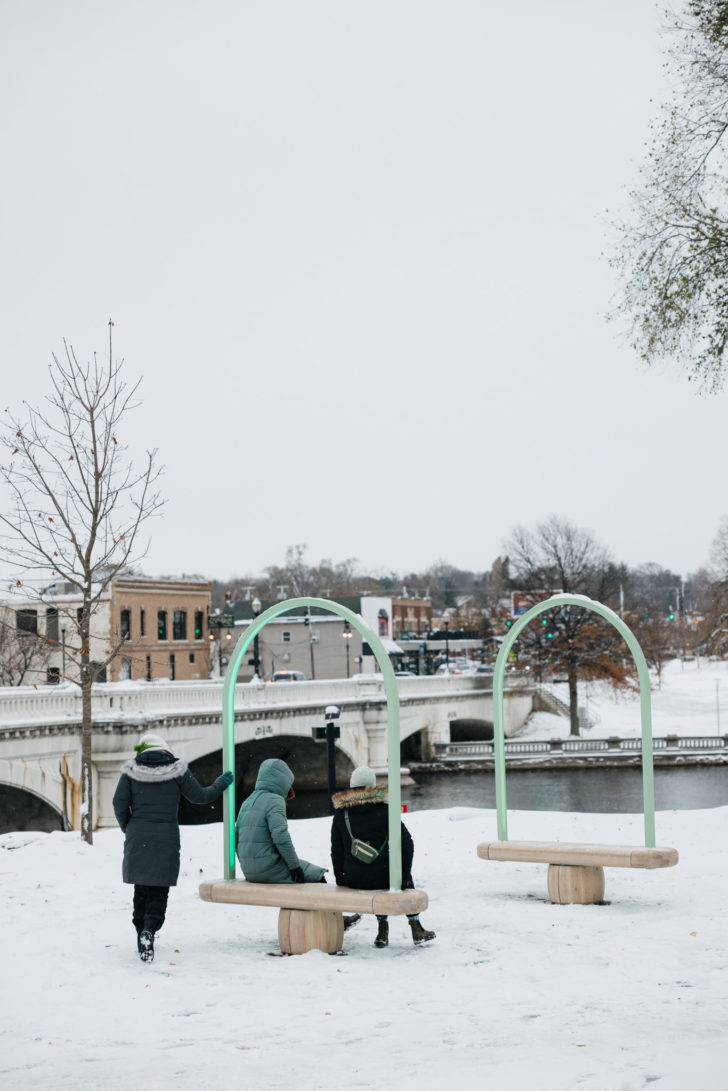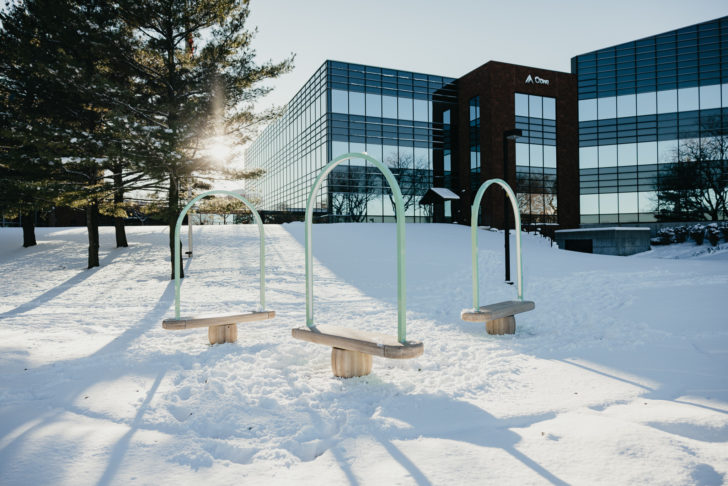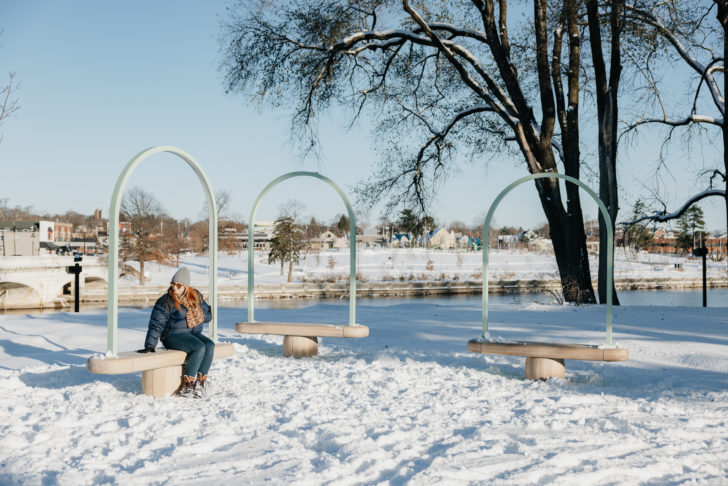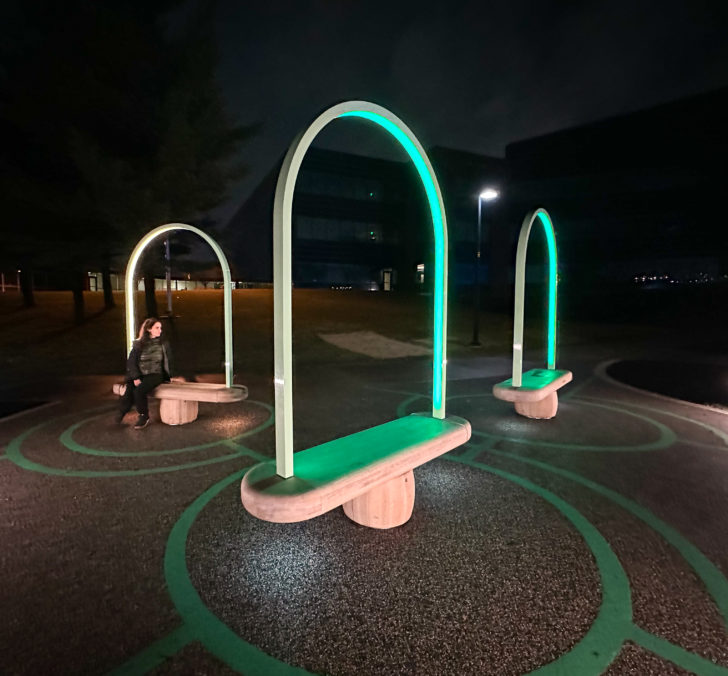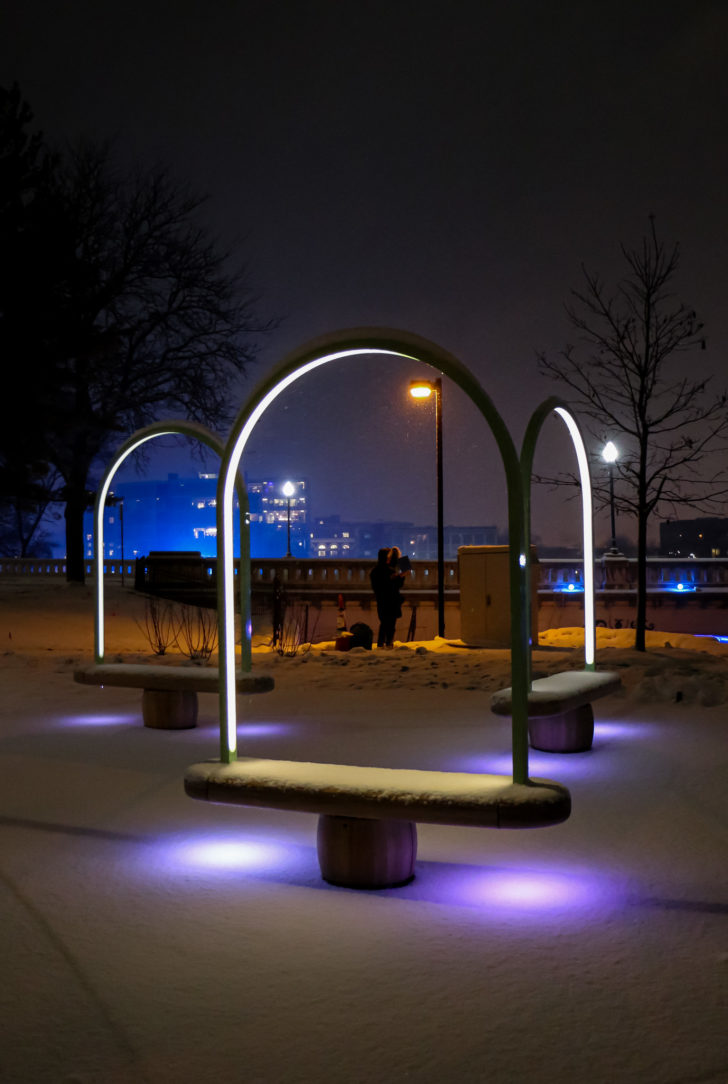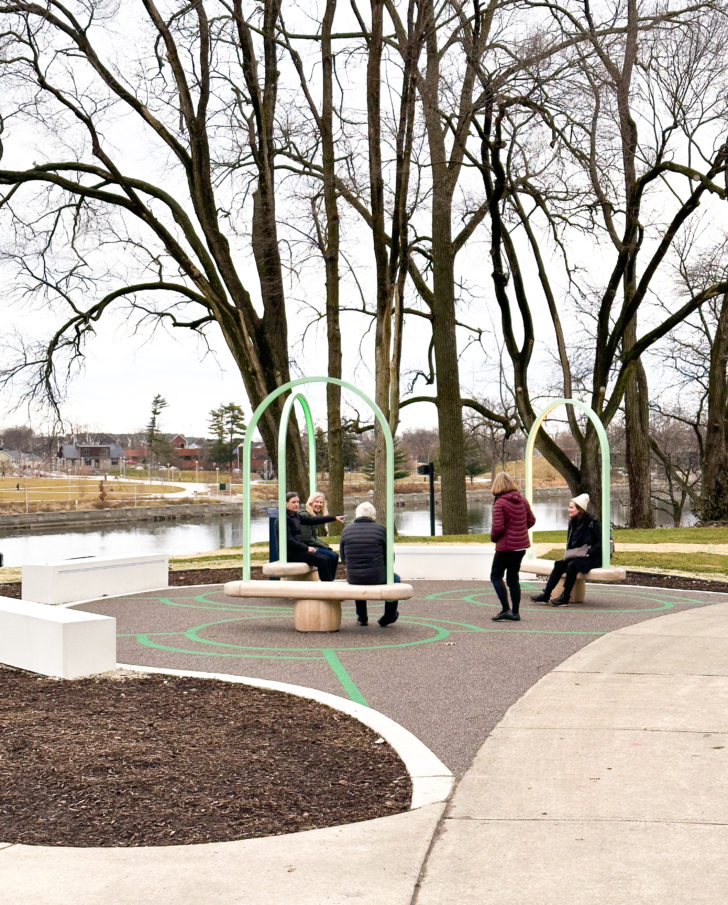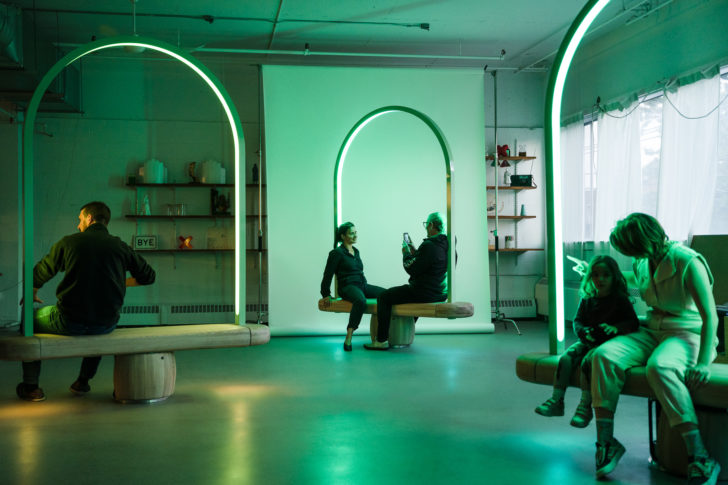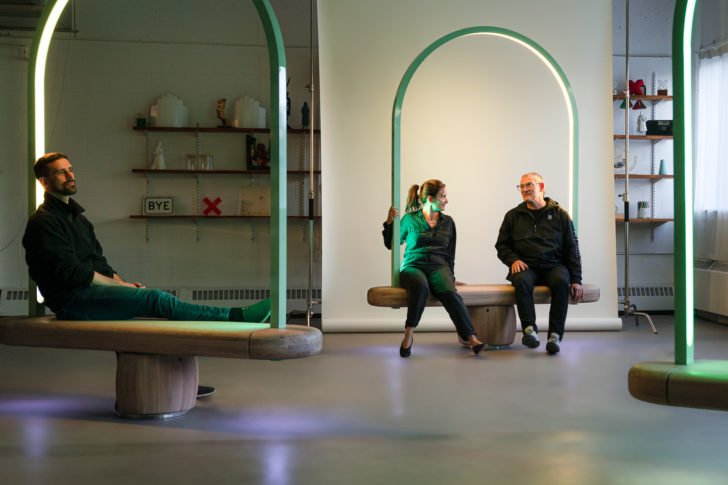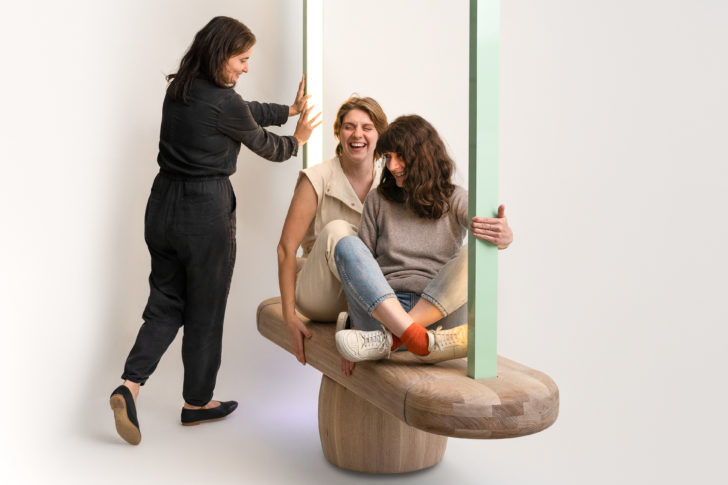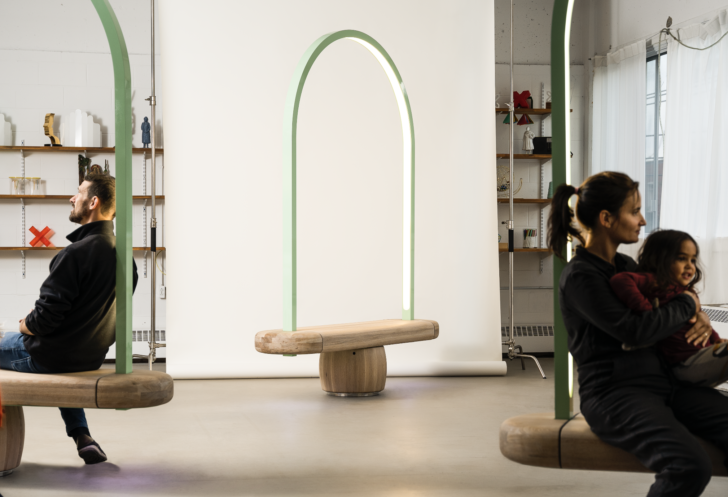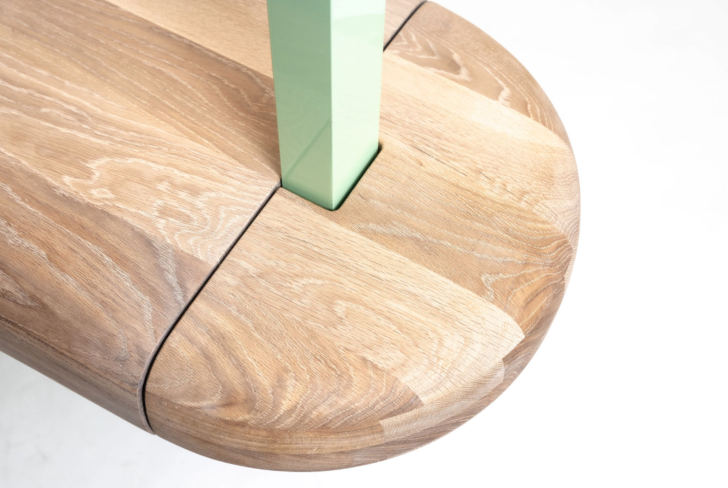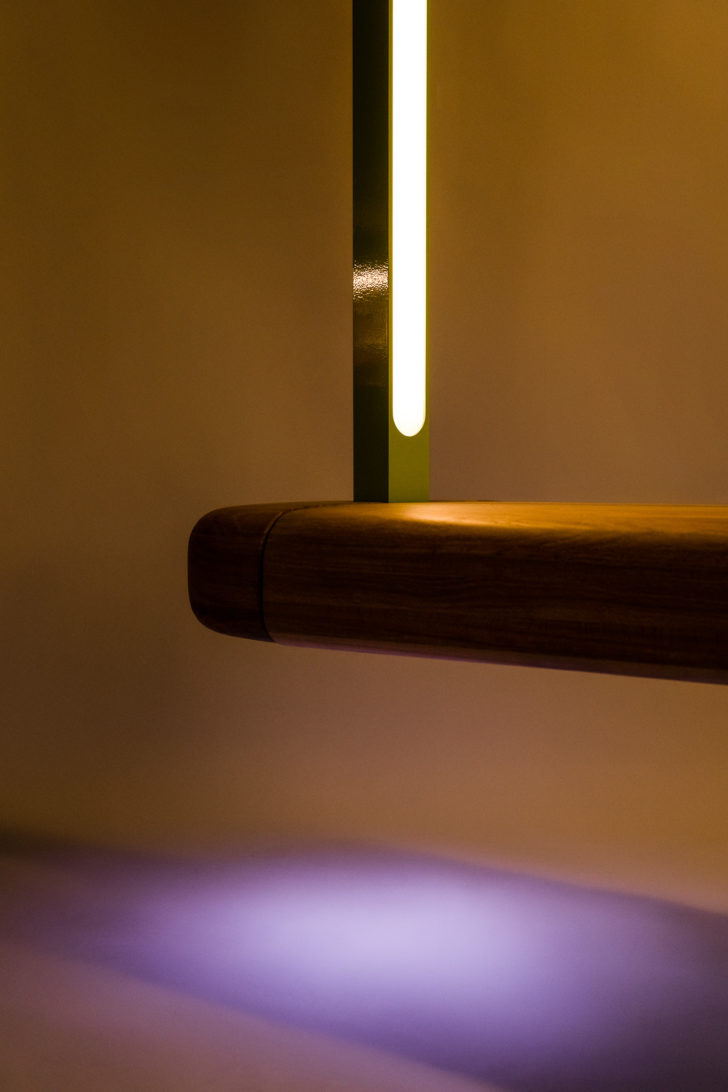 HUB Montreal Award - BEST in Public Art - 2022
Wallpaper* Magazine : Daily tous les jours imagines a world where public play is commonplace with Daydreamer
ICON magazine : The contemporary benches combine music, light and design for a collective experience in public spaces
Monocle : Daily Tous les Jours aims to give residents in South Bend, Indiana, a reason to stay on its snowy streets.
Design Milk : Meant to help create a moment of pause in busy public spaces, Daydreamer encourages a communal experience through its calming soundscape.
Commissioned by South Bend Venues Parks & Arts.
A Project by Daily tous les jours

Creative Direction

Mouna Andraos
Melissa Mongiat

Creative Team

Michael Baker
Michael Carosello
Cécile Chandran
Ajmir Kandola
Anne Ouellette
Magalie Rouleau
Eva Schindling
Steven Steffen
Rebecca Taylor
Pierre Thirion

Sound Direction

Technological Direction

Technical Direction

Production

Production Coordination

Industrial Design

Design Consulting

Manufacturing and assembly

Generique Design
Paul de Block
Mesure

Installation

Acorn Landscaping, LLC
Michiana Contracting
Sinclair Recreation, LLC

Engineering

Yetiweurks
Concept Paradesign

Photography

Qure Agency
Leah Trib Productions

Communication

Thank you

Aaron Perri, Patrick Sherman, Jonathon Geels. Peter Kells, Florian Semlitsch, Robert Frenette, Tobie Horswill (Art&D), Caroline Gueugnon, Yako. l'équipe Daily: Aurélien, Christophe, Leyla, Noémie, Rafine, Renaud, Stu. Leyl, Sama, Léon, Antoine and Zakaria.