McLarena
Quartier des spectacles, Montréal, CA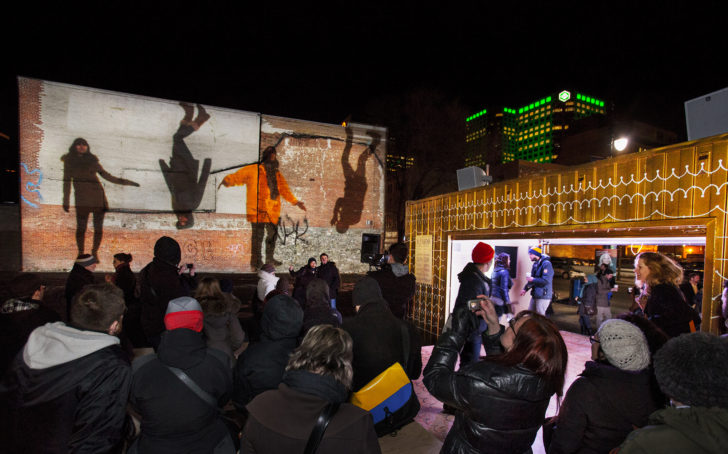 Created as a tribute to Canadian filmmaker Norman McLaren, McLarena is a large-scale installation inspired by Canon, the 1964 short he co-directed with Grant Munro. The piece invites the public to act in a collective film projected on building walls.
McLarena was originally presented in 2014 as part of the Wall to Wall festival to celebrate the 100th anniversary of the filmmaker's birth.
The Project
In
Canon,
the main character performs dance steps following a "canon": as the film plays, his body is duplicated again and again, creating multiple characters saluting, teasing or attempting to cheekily hit each other.
McLarena
invites passers-by to play with this character and contribute to the McLaren movie.
A shipping container transformed into a temporary recording studio allows anybody to follow the original choreography… or the moves of the person that preceded them. Thanks to this imitation game, a collaborative dance is created, evolving with the personality of each dancer.
Once recorded, the dances are edited in real time in a movie and projected on a nearby building facade. Custom seats add to the street theater feeling and allow everybody to enjoy the film.
Watch Canon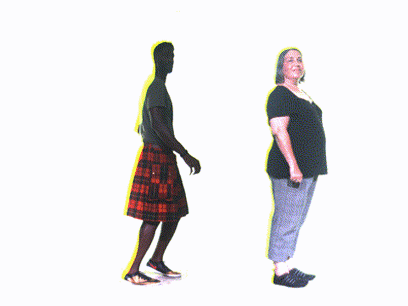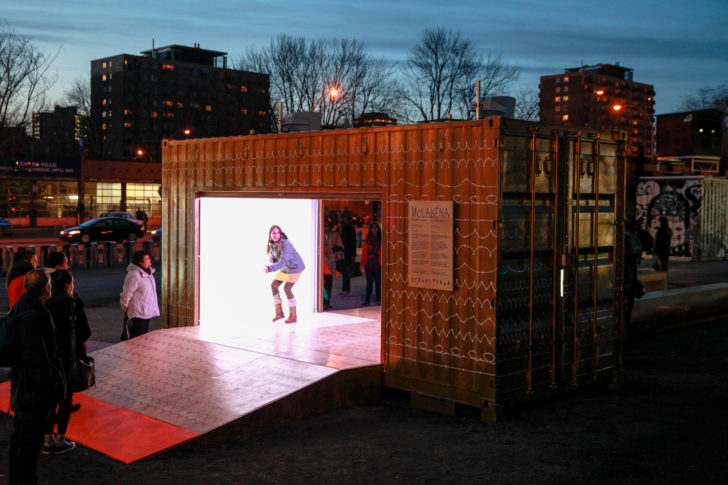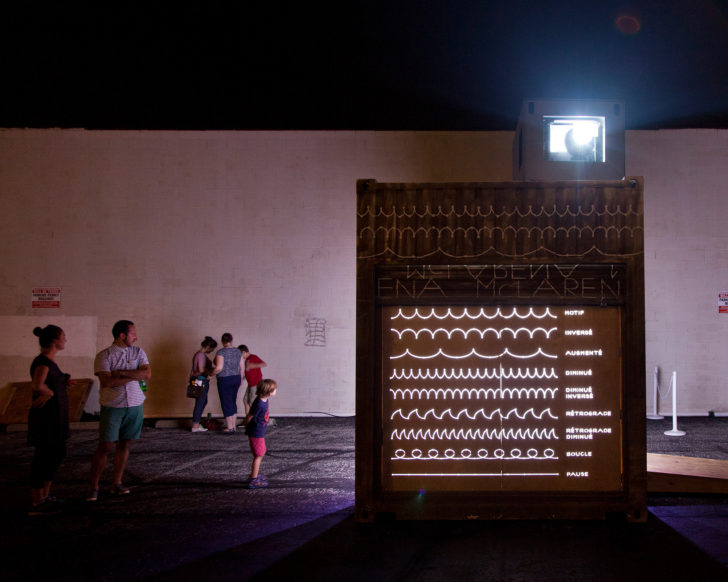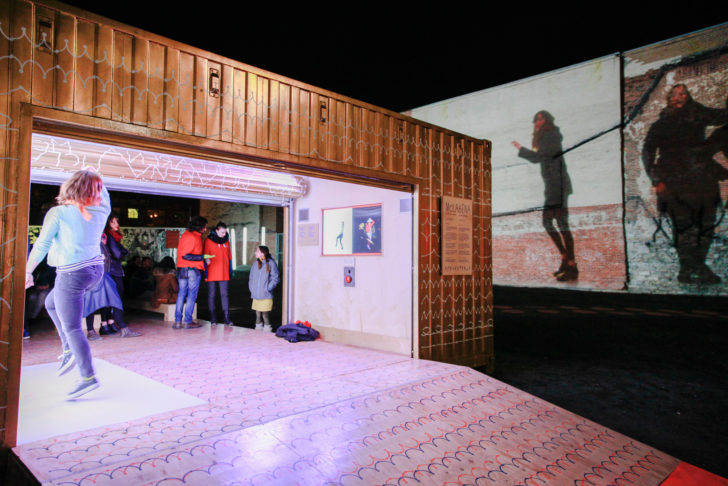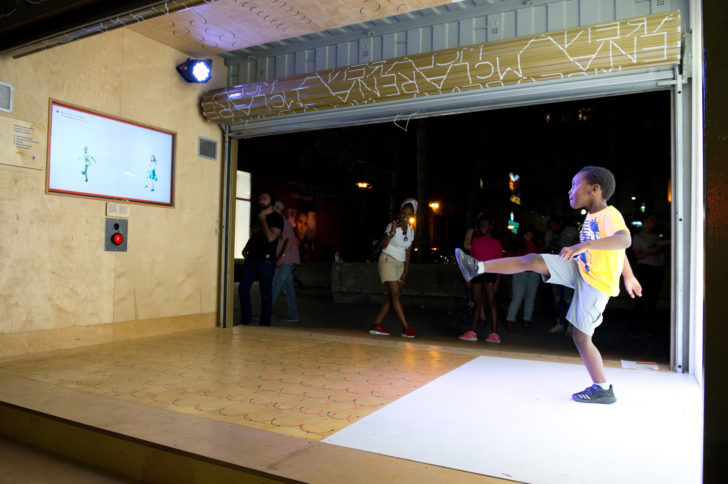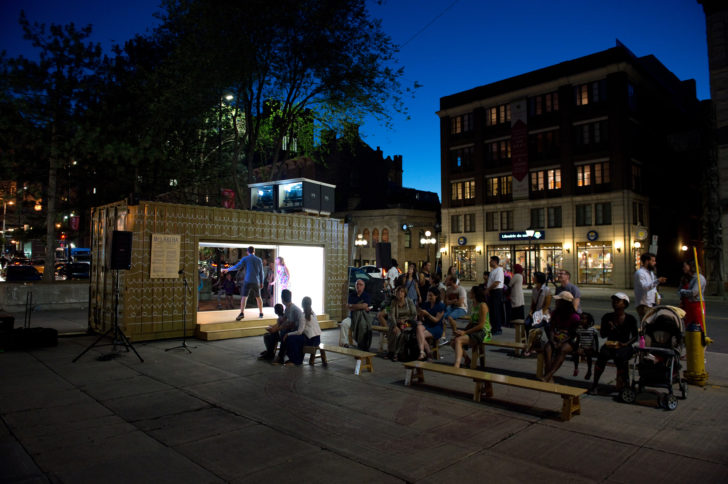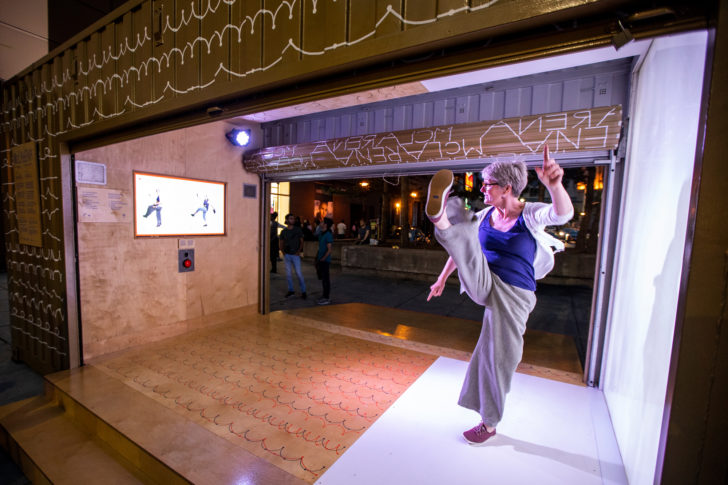 McLaren's Genius
Recognized internationally for his daring and innovative work, Norman McLaren, the founder of the National Film Board of Canada's animation studio, succeeded in giving Canadian animation a vision and a direction that endures to this day. He received many international awards, including an Academy Award for Best Documentary, Short Subjects for Neighbours (1952).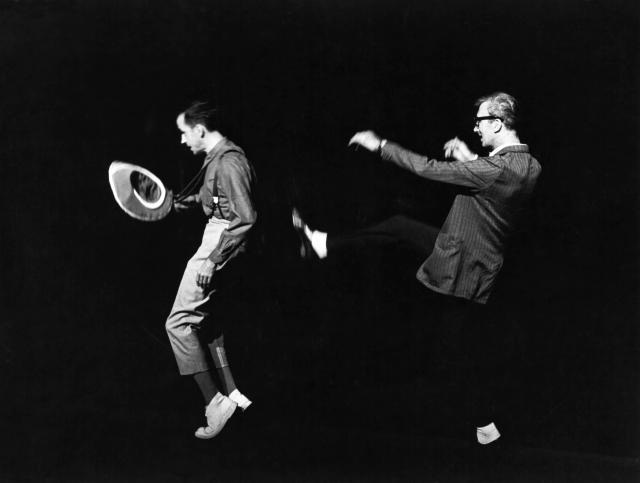 The Canon Magic
The choreographed parts of Canon that inspired McLarena show with humour the many narrative and rhythmic possibilities of a canon.
Daily chose dance as the means through which the public can make McLaren's work their own: each person dancing the McLarena becomes a new, unique character in the movie.
Discover our related project We Can Dance
Taking Over Walls
Set in an underutilized public space in Montreal, the original McLarena took full advantage of the size of the empty location: the large scale projection animated a three-story-high facade with content created by the city's inhabitants, providing new opportunities to gather and break individual bubbles.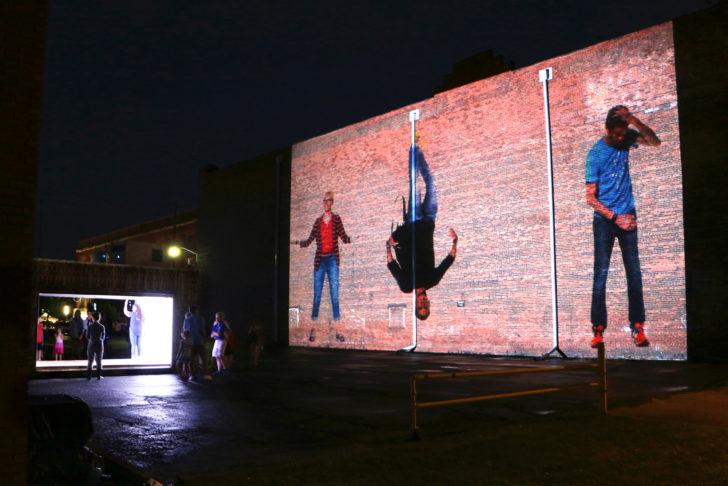 A Project By Daily tous les jours

Mclarena is the project created by Daily tous les jours for Mclaren Wall-to-Wall, a presentation by The National Film Board Of Canada and The Partenariat Du Quartier Des Spectacles.

Creative Direction

Mouna Andraos
Melissa Mongiat

Production

Partenariat du Quartier des Spectacles

Technological Direction

Interactive Direction

Sound Direction

Graphic Design

Spatial Design

Software Development

Original Music Score by

Musical Score

Pierre-Guy Blanchard
Jessica Moss
Jérémi Roy

Recorded at hotel2tango by

Videography

Thank you

Capucine Diancourt, Hugues Sweeney, Louis-Richard Tremblay, Marie-Pier Gauthier, The National Film Board team, Pascal Lefebvre, Mikaël Charpin, Benoît Lemieux, The Partenariat du Quartier des spectacles team, Carolina Garcia Amatos, Emmanuel Durand, openFrameworks community, Vincent Tourigny & his painters, ACME Neon Plastique, Robocut, all the people in the hallway who accepted to dance for our prototypes, and the animators: superheroes of the McLarena.

Powered with the help of