307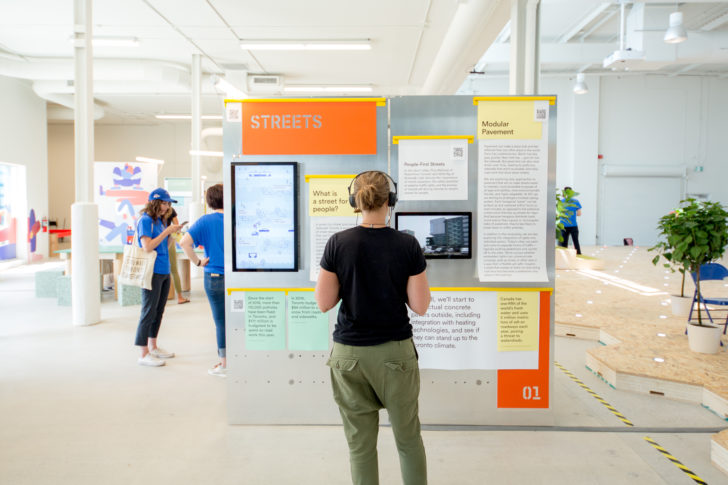 307 is the first office and experimental workspace for Sidewalk Toronto (SWT), located in the neighborhood of Quayside. Daily was mandated to facilitate conversations between the public and SWT and contribute to the transformation of the building both inside and out. We created a public lab, where visitors can experiment with the various challenges of building a sustainable city.
A place for input + discussion + experimentation + new ideas + action + your voice = 307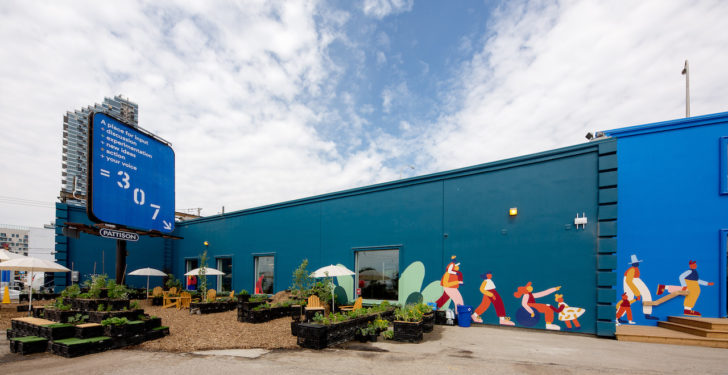 Furniture and Design
We designed a series of interventions to explore urban planning in layman's terms and generate questions about the city of the future. A collection of modular furniture and interactive elements such as moveable tables and stoops, foam blocks, games, and illustration serve as a framework for SWT's content.
Modular tables present the content; they can be relocated and reconfigured as needed to tell various stories. 
Blocks made of 100% recycled foam can be used to sit, divide or clear the space or build imaginary cities.
With the help of Studio Pilote for artistic direction, SSSVLL for industrial design and Cécile Gariépy for illustrations, Daily developed a language for 307.
Stoops on wheels provide a resting place for both humans and plants. 
Located in an industrial land, the building was transformed into a compelling beacon, with electric blue walls and murals.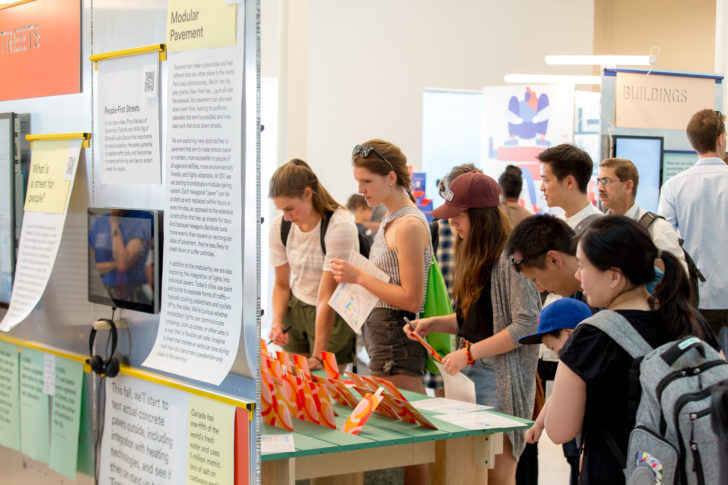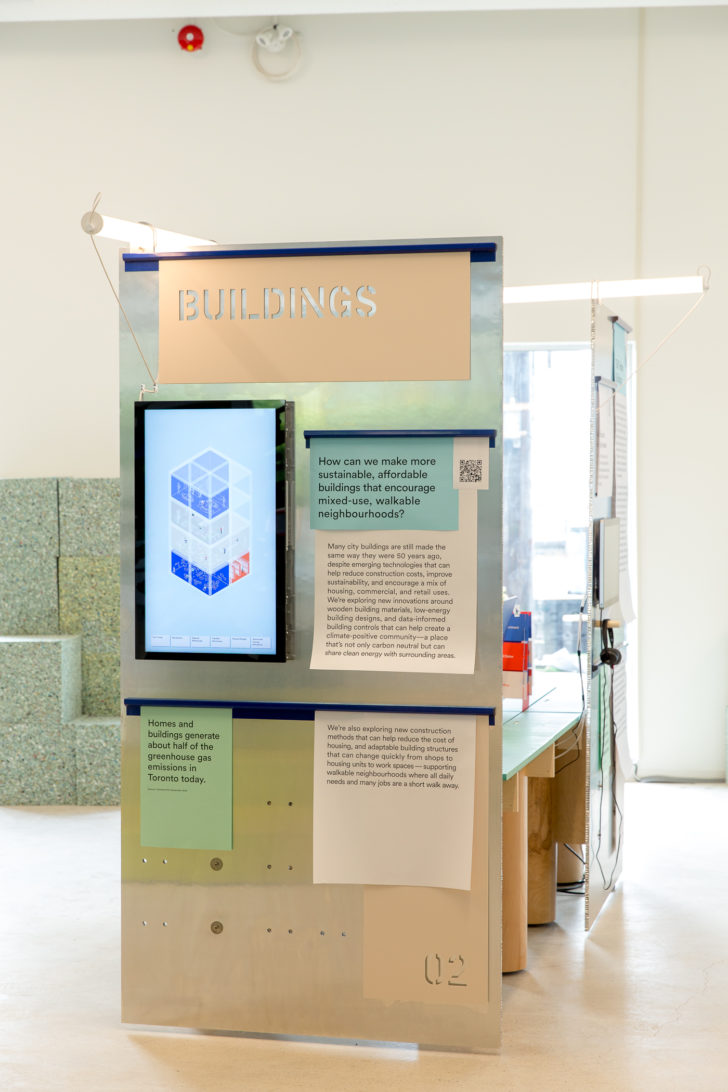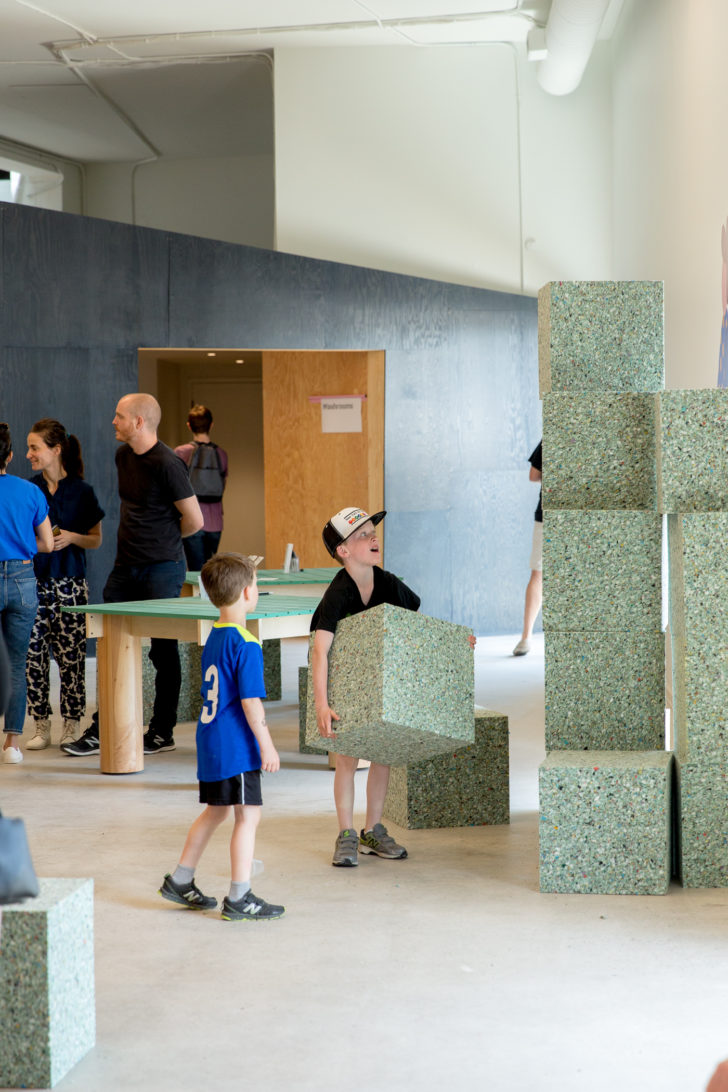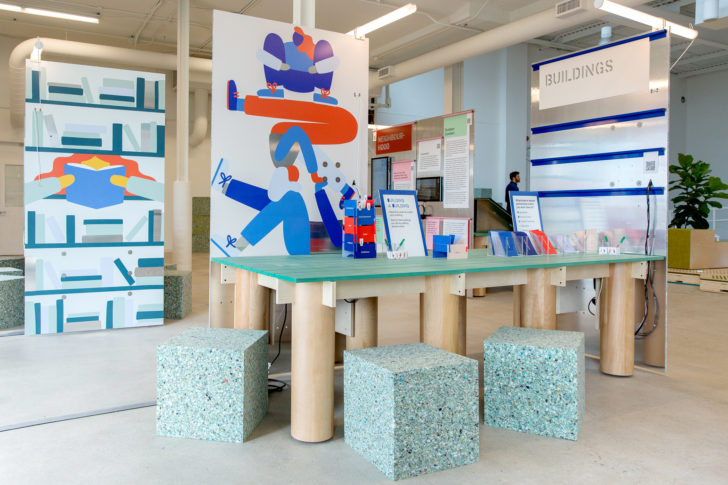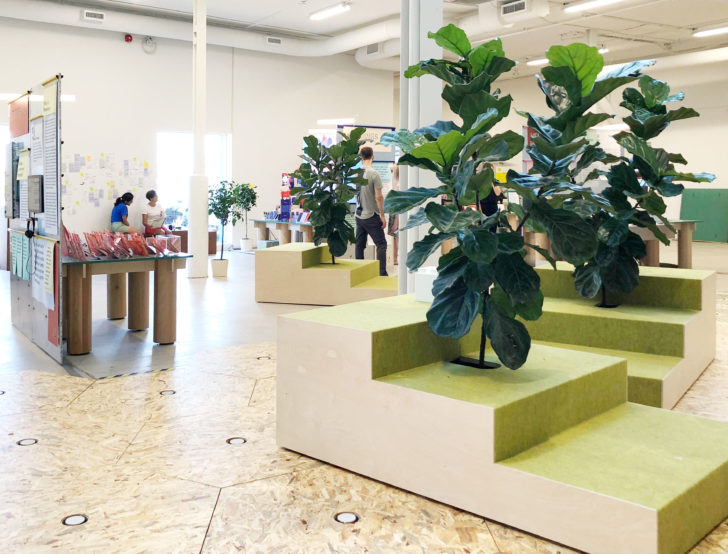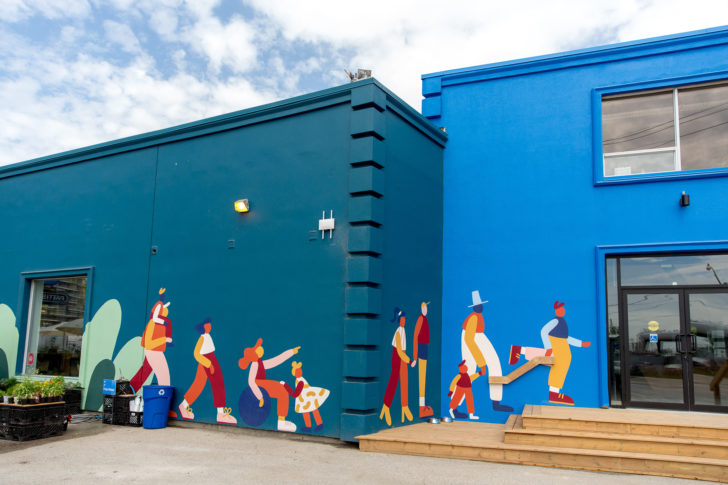 The Generative Map
The Generative Map is a mapping tool designed to build a neighborhood and learn about urban planning. Designed by Daily tous les jours, it helps users of all ages to generate plans through simple actions, to evaluate how well they perform, while facing complex but tangible decisions. The Generative Map is a custom Graphical User Interface for the generative software developed internally by New York based KPF Urban Interface—it is the actual tool they use in their own urban planning process.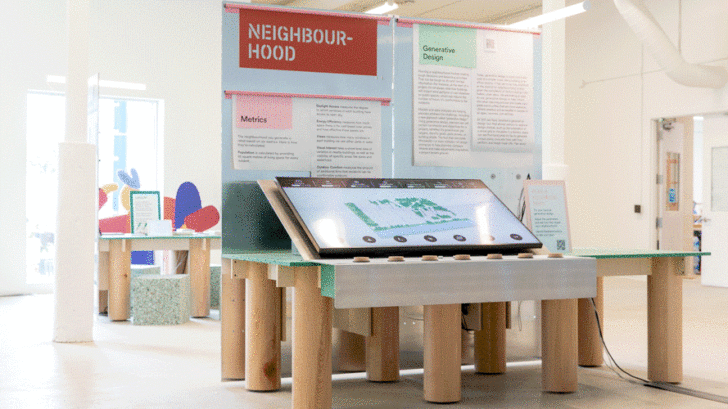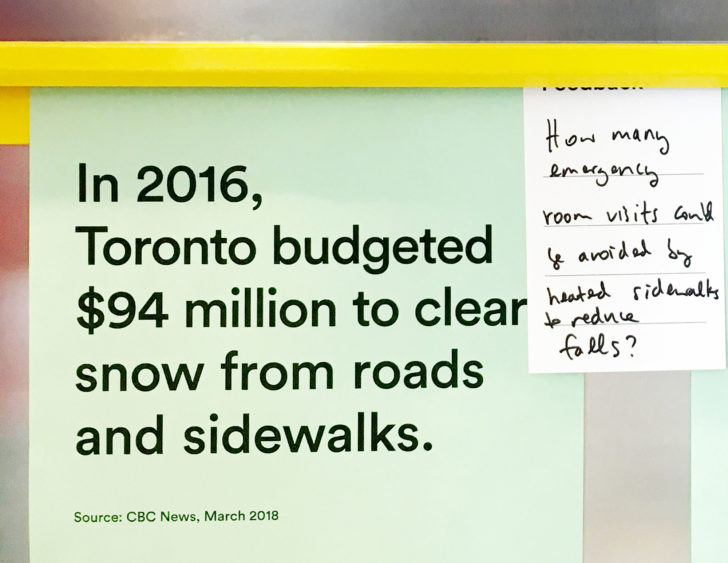 Participatory Exhibition
What can the city do for you? Multiple card games invite the public to imagine the city of the future through four different scales: building, street, neighborhood, city. 

What's in a building? By assembling stackable cards, this game mixes city functions and activities that usually don't coexist in a single facility. A way to expand people's current vision of building typologies, and build imaginary housing.

What could the street do for you? This card game offers to compose algorithmic-like sentences, in order to imagine the impact of technologies on streets in the future, and to promote a less car-centric world.
What do you think? With the help of little illustrated cards, visitors can vote for their favorite ideas or a contributions from the fellow visitors.
What are you reading? Both fueled by SWT's team and public suggestions, a library further feeds the conversation about urban design and living, looking beyond the specifics of Quayside.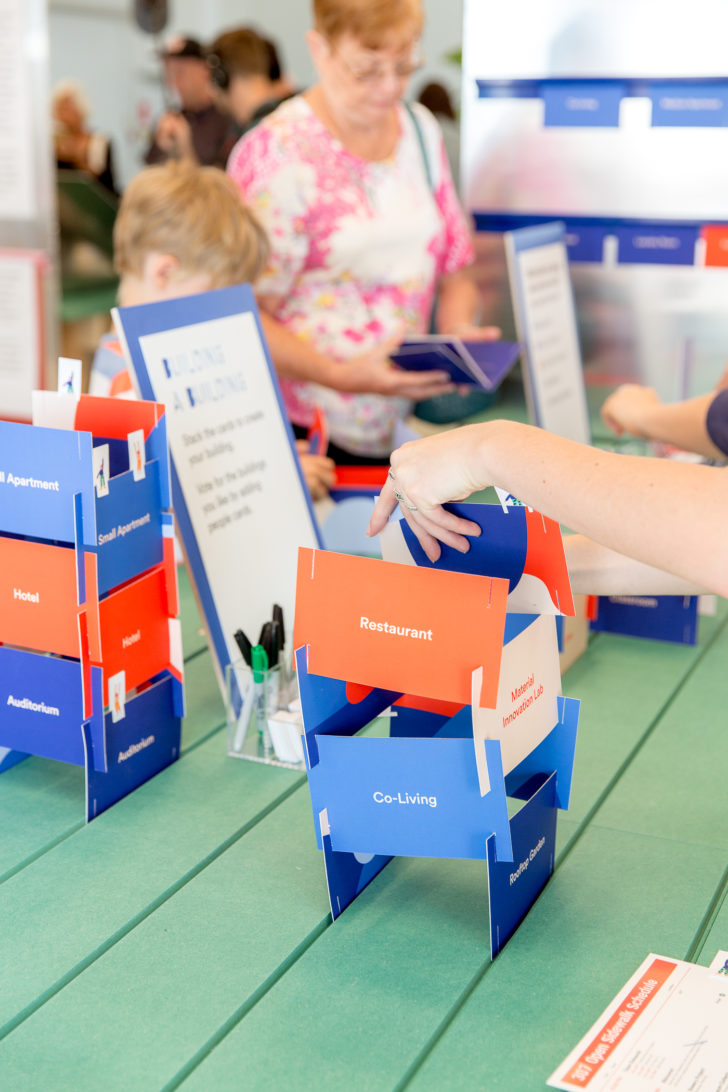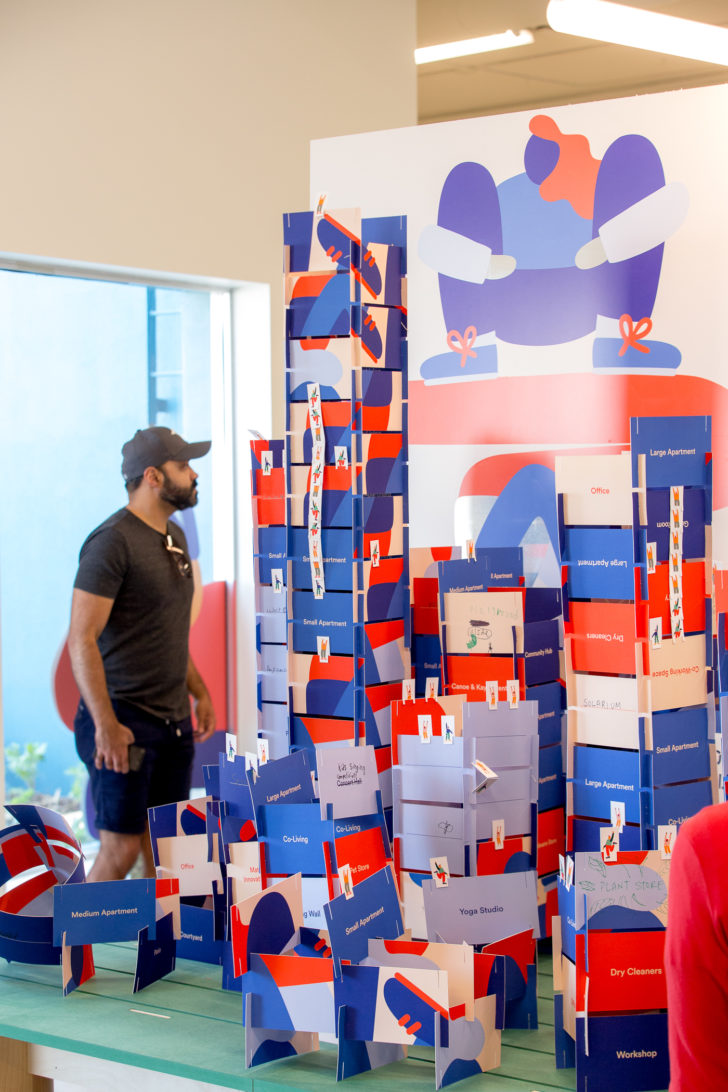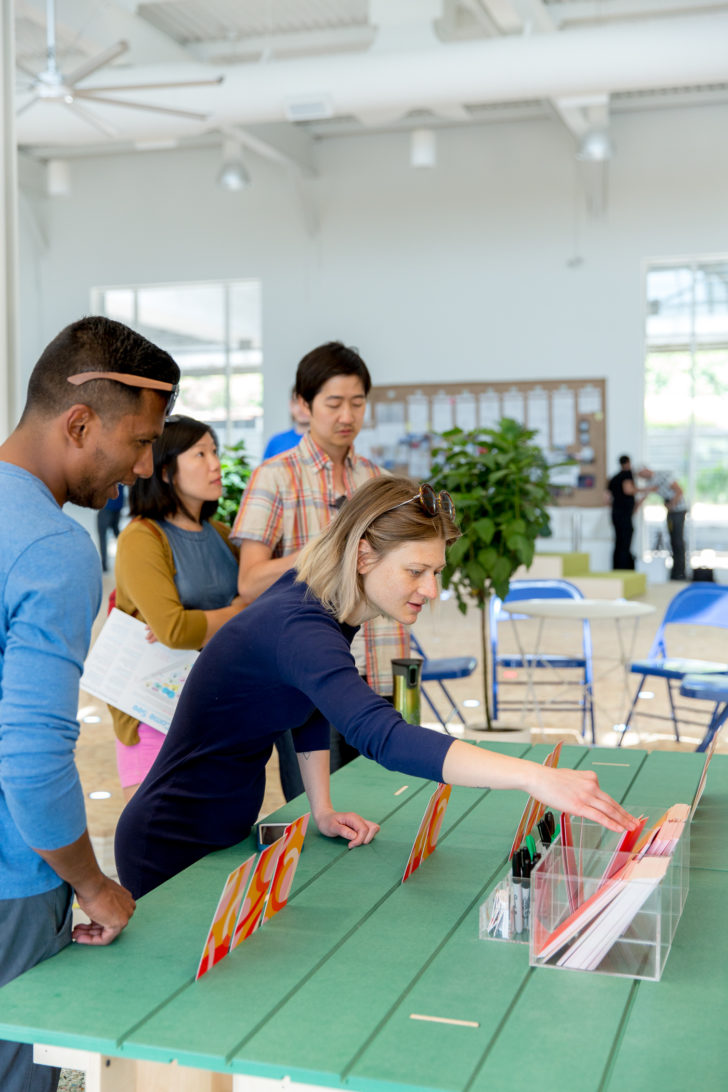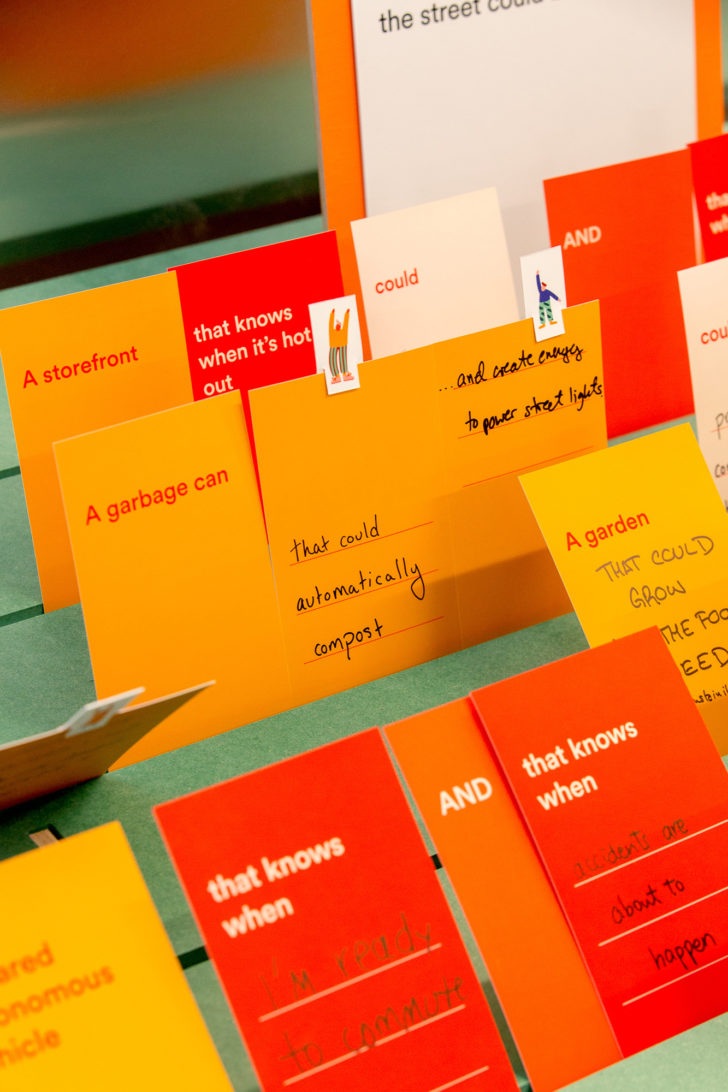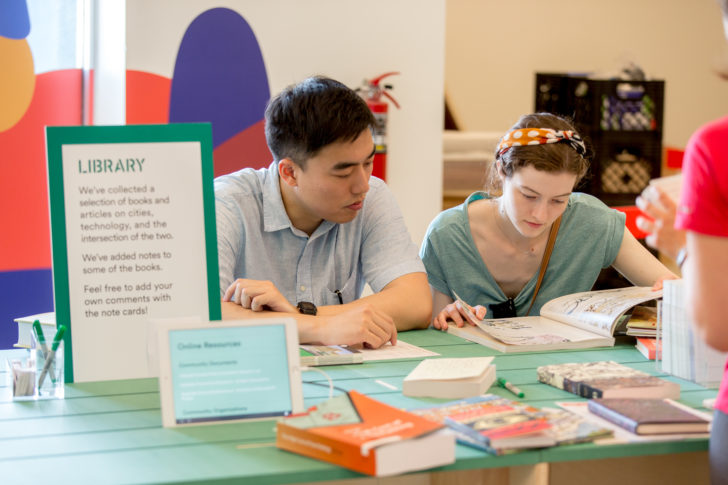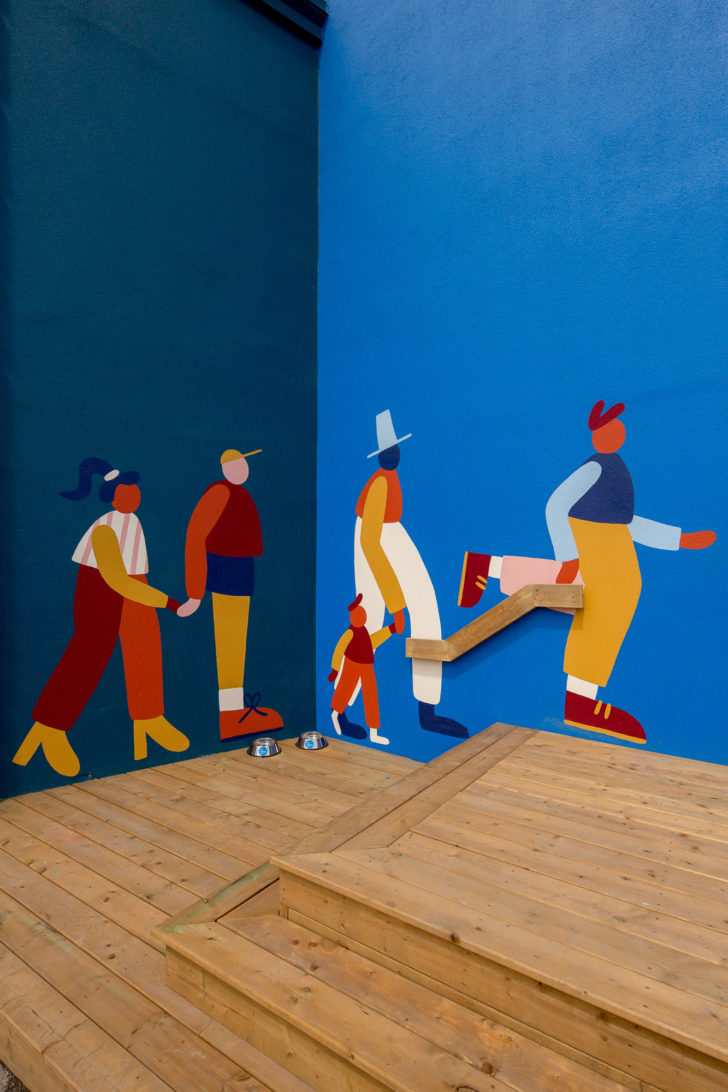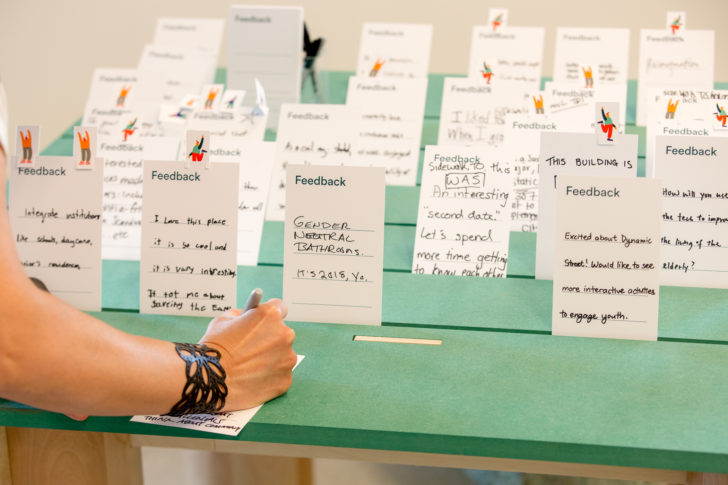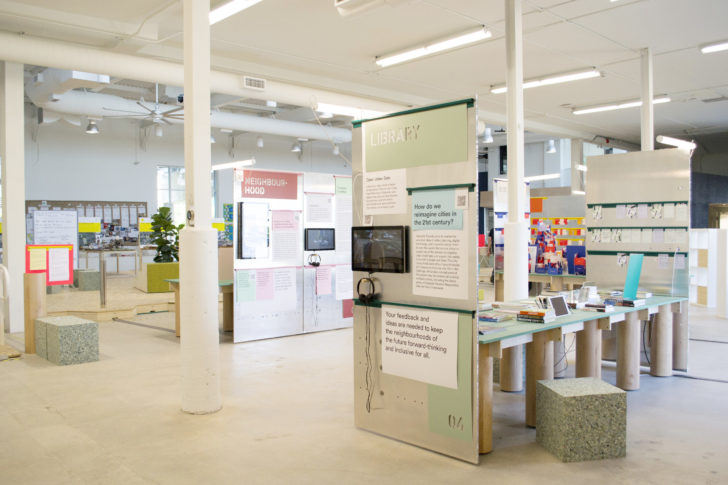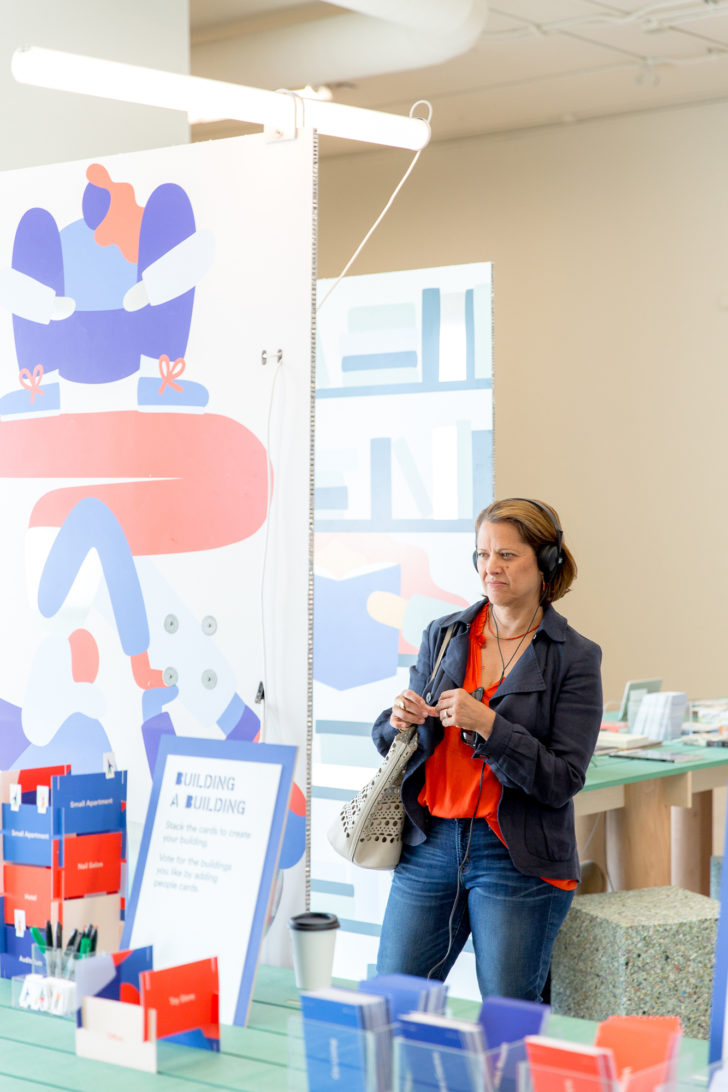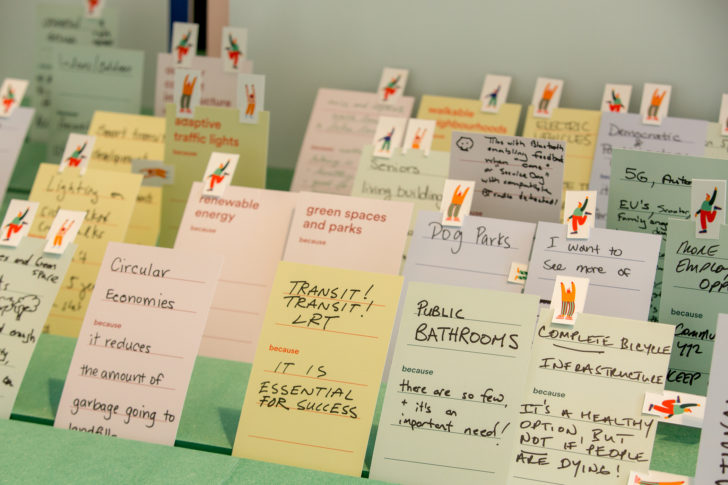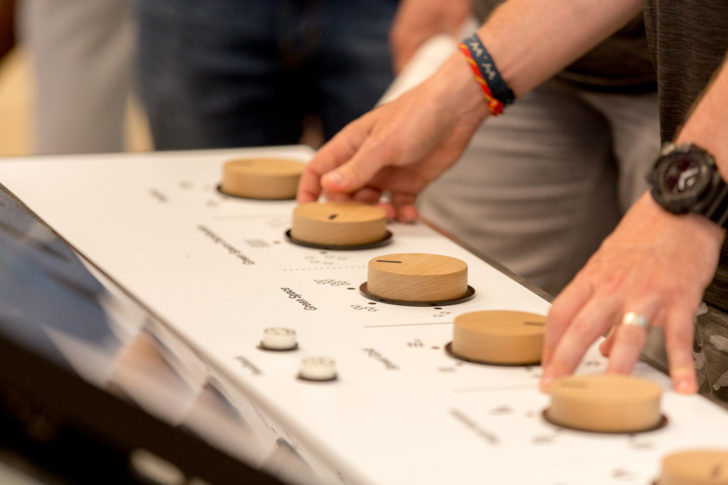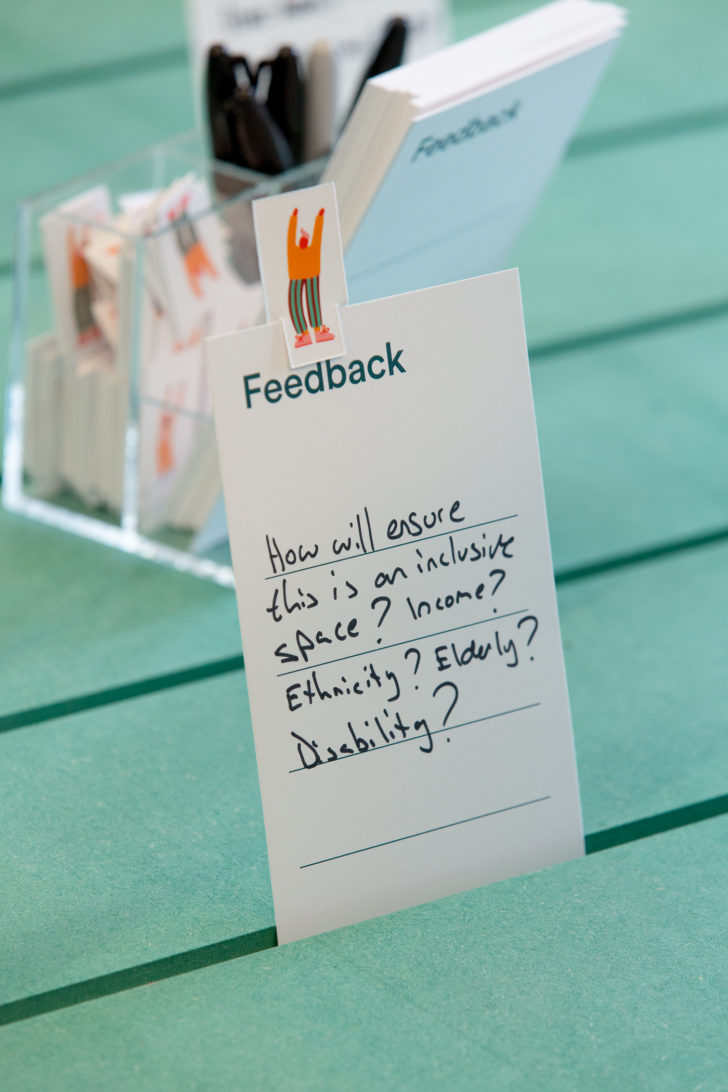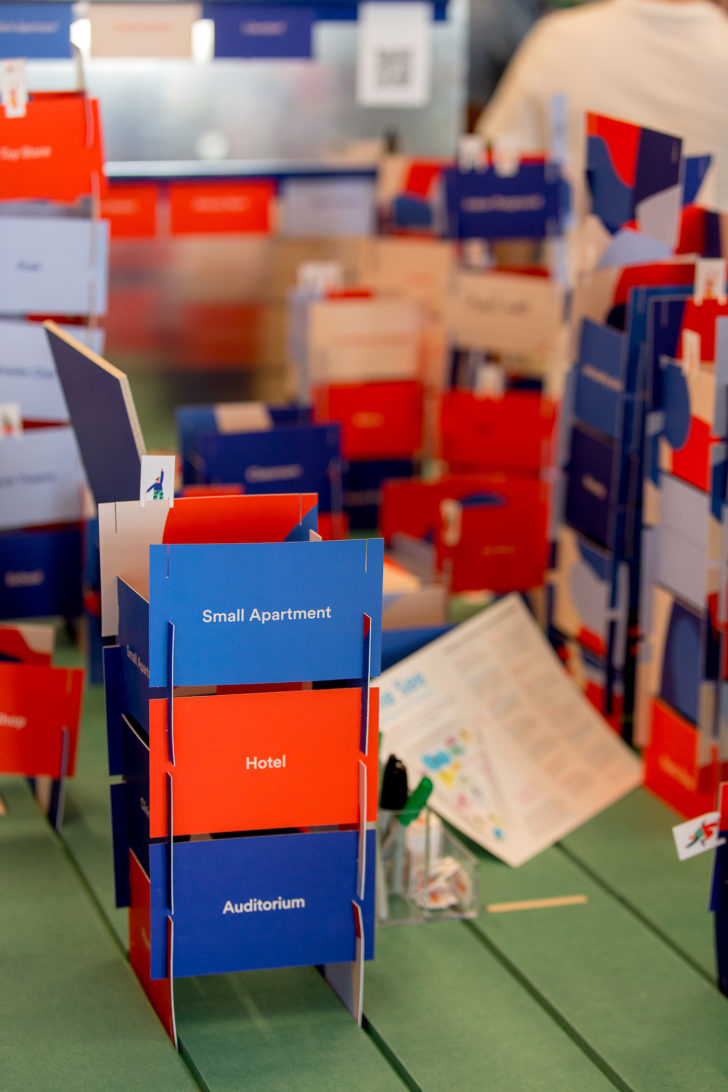 This project was commissioned by Alphabet's Sidewalk Labs, in collaboration with Waterfront Toronto.

A Project By Daily tous les jours

Creative Direction

Mouna Andraos
Melissa Mongiat

Interactive
 Direction

Jonathan Chomko
Rebecca Taylor
Pierre Thirion
Kelsey Snook

Technical Direction

Artistic Direction

Motion Design

Illustration

Illustration and Graphic Design

Pawel Karwoski
Anne Ouellette

Industrial Design

Technical Design

Lighting Design

Prototyping

Research

Content Coordination and Copywriting

Copywriting

Laura Broadbent
Daniel Baylis

Proofreading

Project Coordination


Ingrid Enriquez-Donissaint
Marie-Pier Gauthier-Manes
Irène Chaudouet

Production Runner

Studio Coordination


Communication

Photos

Manufacturing Partners

Accord expositions, Atelier Papineau, CNCcutting, Creative Silhouettes, CVG Consulting, Double Effet, Ebénisterie, Jack World, Photosynthèse, Quadriscan, Robocut, Tournages du Nord

Special thanks to

Laura Faria and Clémence Mira.