Score!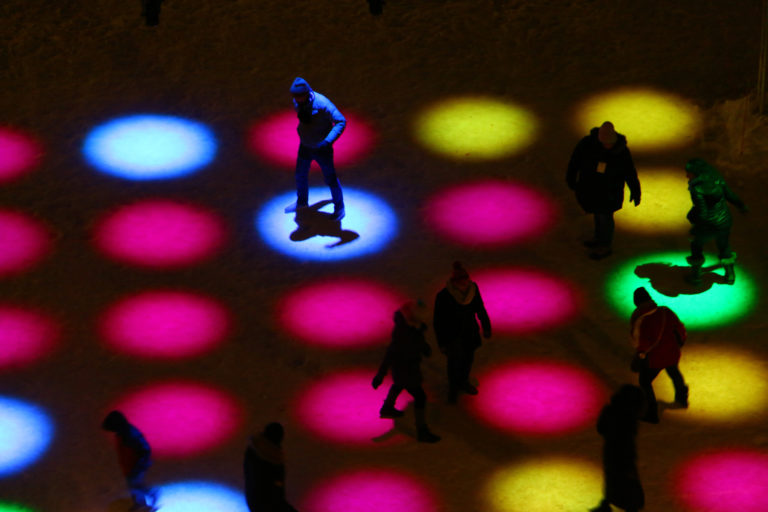 Kicking a ball around, moving pieces on a board, dealing cards: playing a game is usually simple. It's the rules that change everything. Score! is a game about all games, asking questions about rules, team spirit, competition, and the strategies that emerge while playing.
Touring Installation Since 2018

Super Bowl LII - USA
The Project
Score! progresses through ten different rounds of gameplay… and the rules change each match. To participate, players must really pay attention to the rules and to each other. Whether they're asked to explore the field or jump onto a specific color, the installation appeals to their competitive nature by introducing new levels of complexity along the way: points, penalties, traps, etc.
Score! works with two large scale projections. The first creates the playing field on the ground. The second is a scoreboard, projected onto an adjacent building, helping participants to follow the instructions and keep track of points.  Inspired by the hosts of the Super Bowl, the voice of Score! plays the role of coach, referee and cheerleader all at once, helping players through warm up, competition, and collaboration!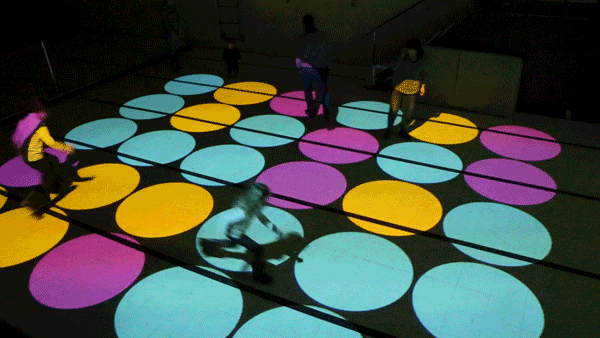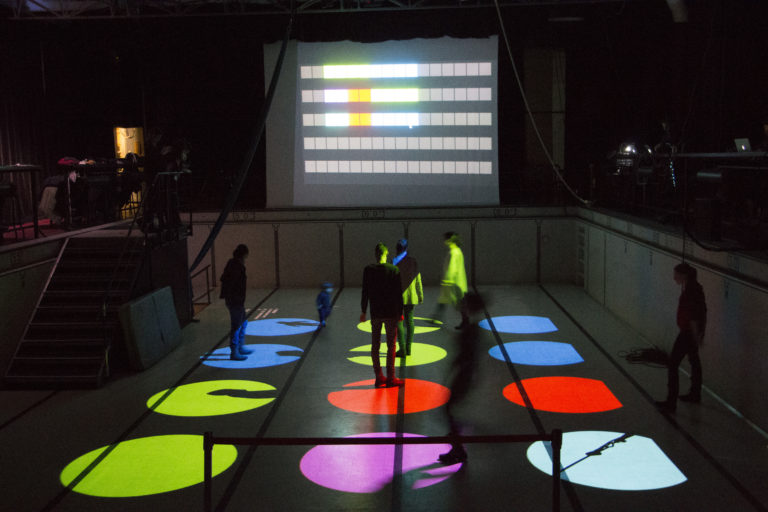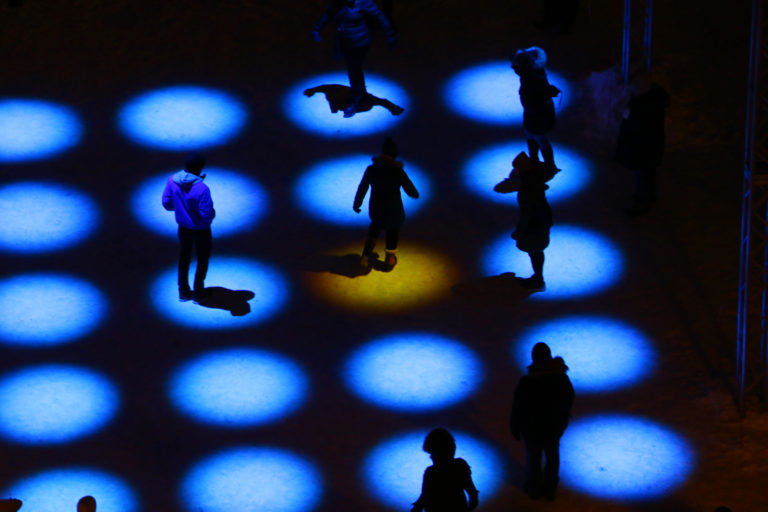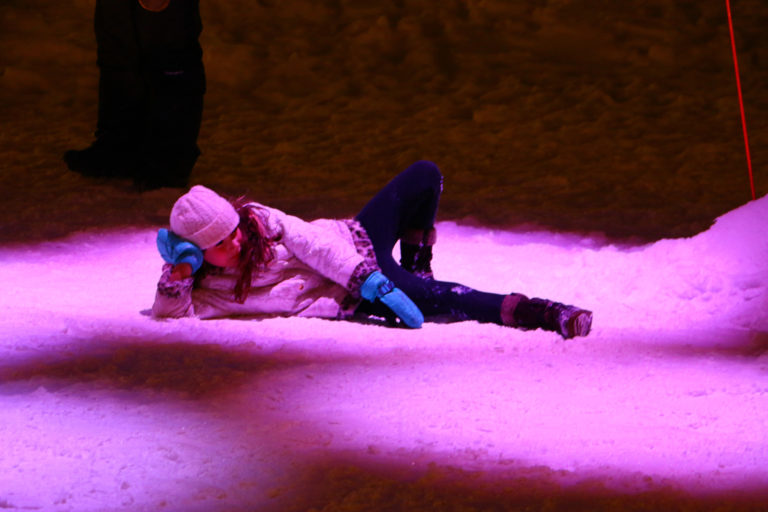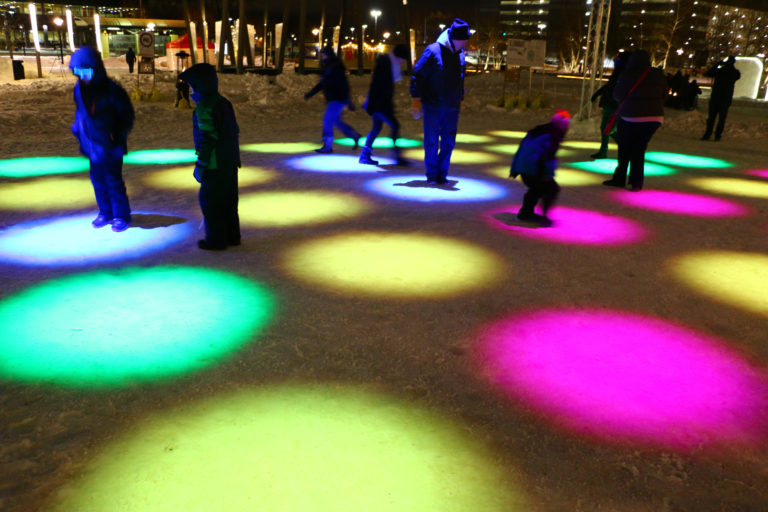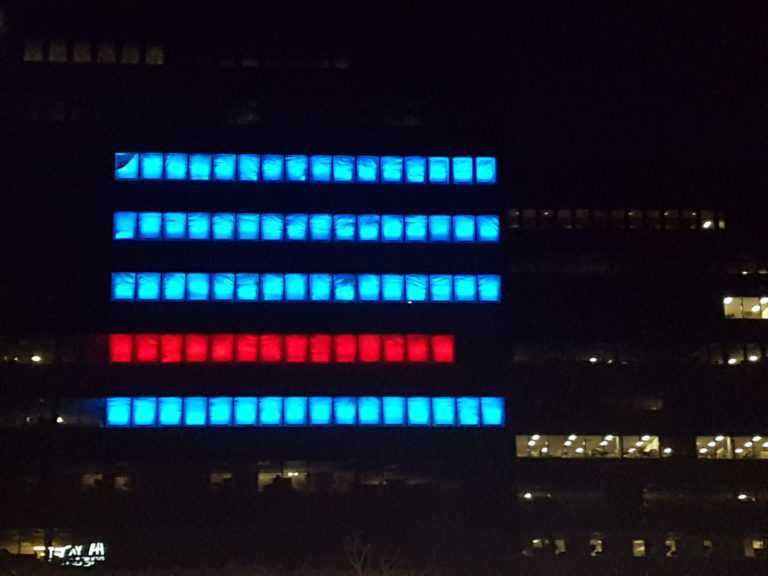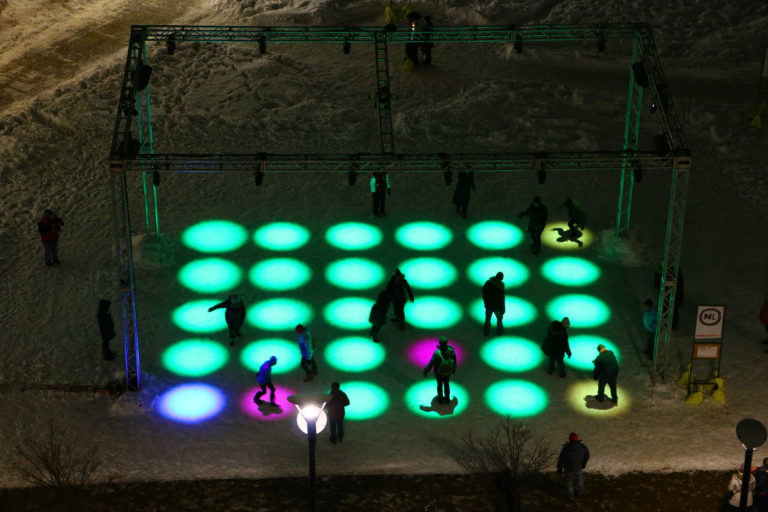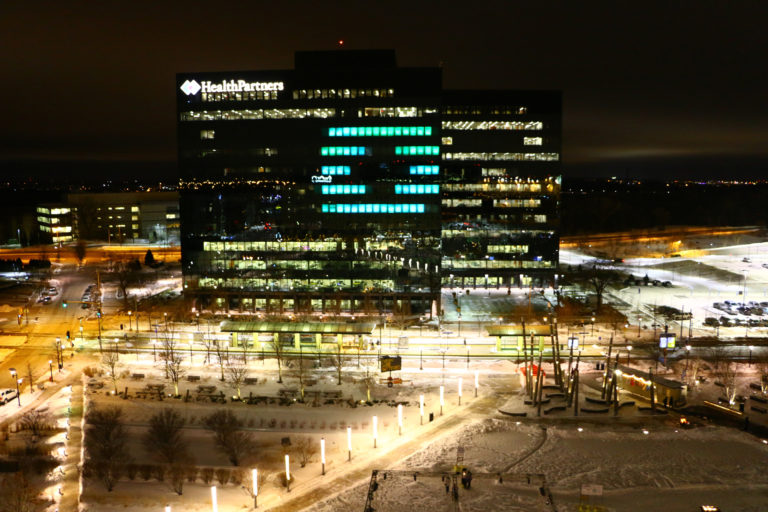 Original Creation
Score was created for Super Bowl LII, during the Illuminate South Loop Festival in Bloomington, Minnesota. The installation invited the public to brave the cold in order to spend time together outside, stimulating a public place usually less active in the city.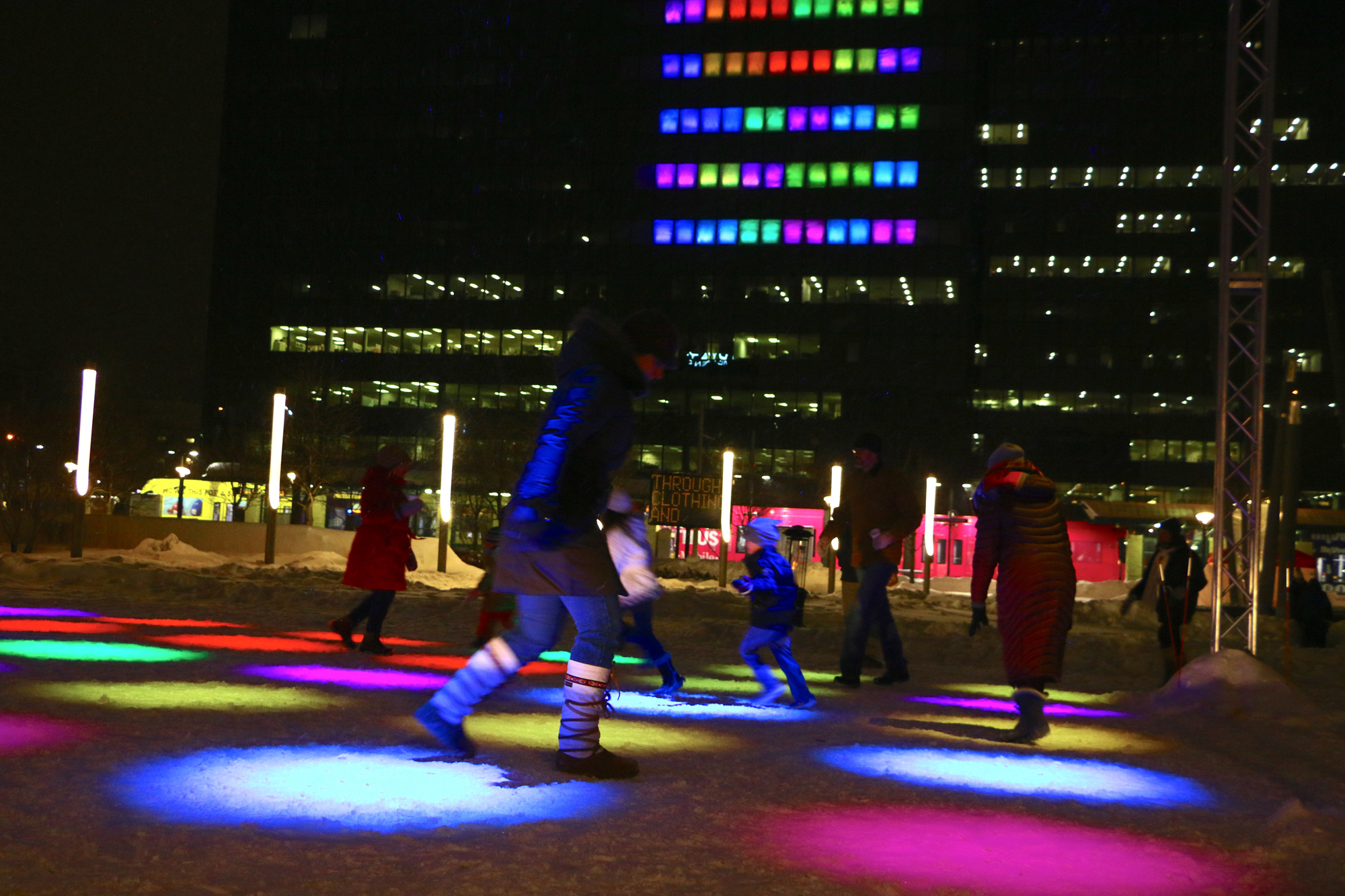 Behind the Scene
To create the scoreboard, Daily was inspired by the Project Blinkenlights, an installation from 2001 made by Chaos Computer Club, transforming a building facade into a computer screen in Berlin. In place of a simple projection, the team set up lamps on 80 windows of the building, allowing them to be controlled individually to create a seamless integration of the technology in the space.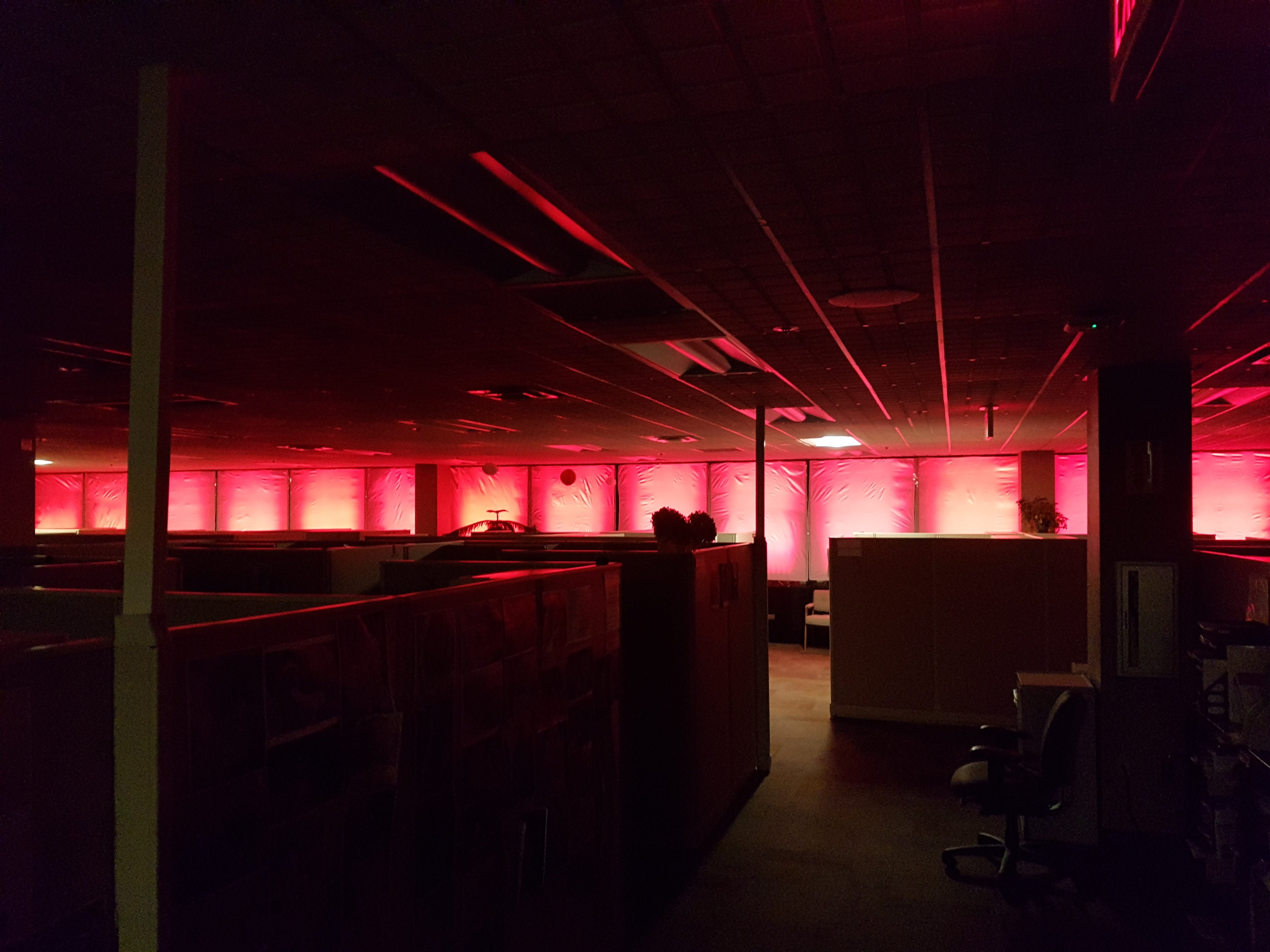 For Super Bowl LII, commissioned by Northern Lights.mn for Illuminate South Loop. In partnership with the City of Bloomington and Artistry.

A project by Daily tous les jours

Creative Direction

Mouna Andraos
Melissa Mongiat

Interactive Direction

Environment Design

Narrative Design

Technical Direction

Sound Direction

Production

Project coordination

Marie-Pier Gauthier-Manes

Studio Coordination

With the precious help of

HealthPartners
McGough Construction

A/V rental & installation

Wifi Connection

Creative Consulting

Recording Studio

Video Documentation

Special Thanks

Bianca Su, Fatou Dravé, Steve Dietz, Chad Pechacek, Hyatt Regency, Bloomington, Bain Mathieu, Lev Bratishenko, all our beta testers

Powered with the help of