I Heard There Was a Secret Chord
Vibration Choir and Metaphysical Connections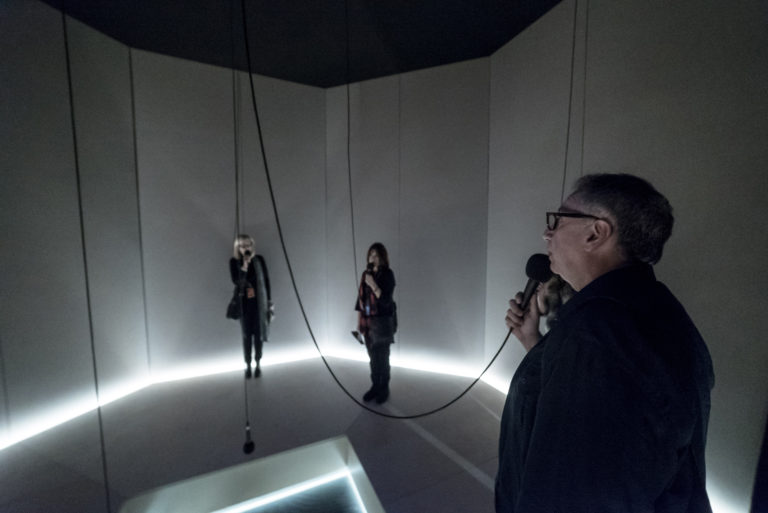 At any given moment, hundreds of people are listening to Leonard Cohen's Hallelujah at the same time. I Heard There Was a Secret Chord creates a metaphysical connection between them through a sensory experience, in an attempt to demystify this universal hymn.
Touring Installation Since 2017

Montreal, Canada
New-York, USA
Copenhagen, Denmark
London, United-Kingdom

Sensory Connections 
Singing in a group brings about visceral universal emotions, humming, on the other hand, creates a musical vibration inside the body. I Heard There Was a Secret Chord merges the two sensations and provides the public a moment of communal contemplation on the universal, quasi-mystical quality of Hallelujah.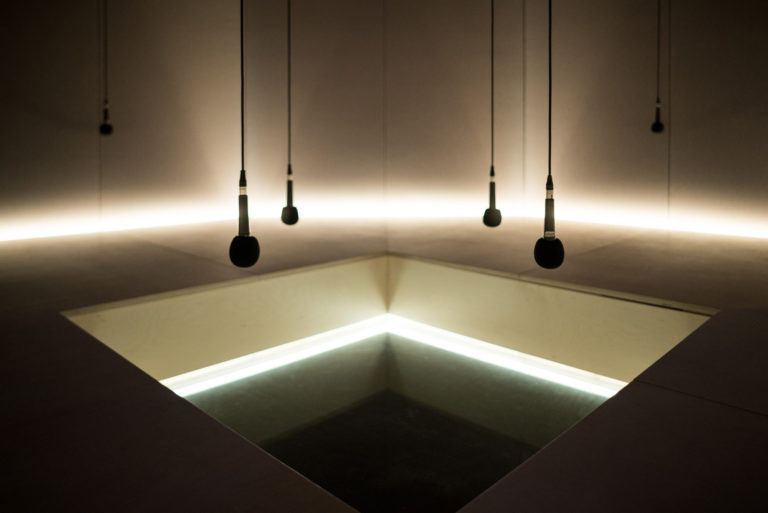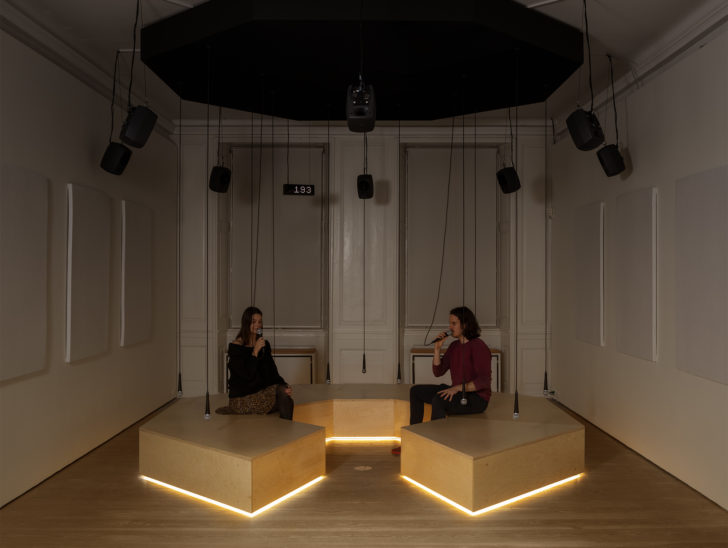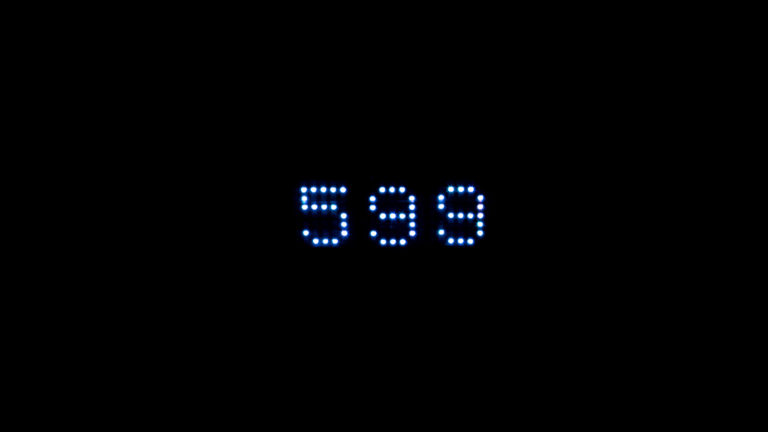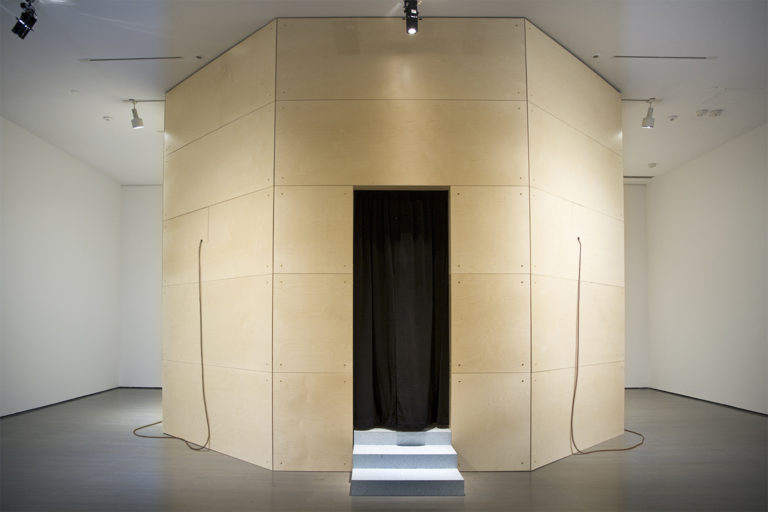 How It Works
The piece consists of a physical installation and a website. Both continuously broadcast Hallelujah's melody, hummed by a virtual choir. This choir of humming voices is directly impacted by the visitors. Whether they are listening online or in-situ, the number of voices heard increases and decreases as a result of their presence. The fluctuating number is displayed in real time.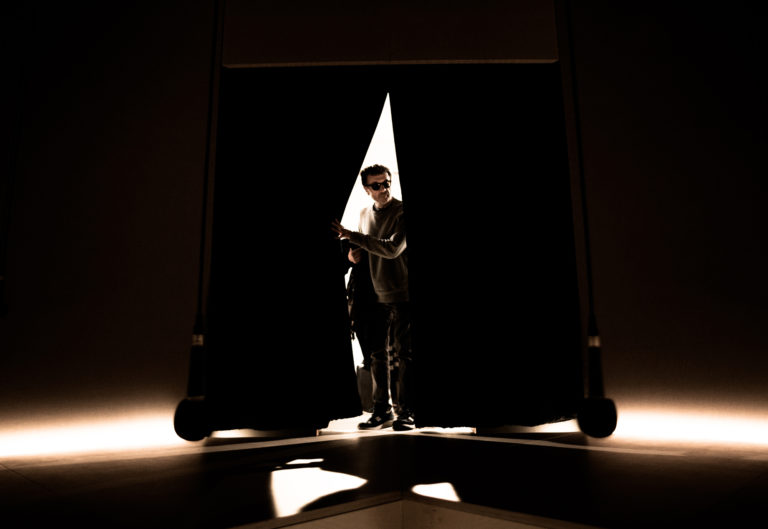 The physical installation is an octagonal floor with a series of suspended microphones. Unexpectedly, the microphones are not meant to record or project voices; they are used to transform voices into vibrations. When one hums into a microphone, the sound makes the floor vibrate. The vibrations increase in intensity as more people join the choir.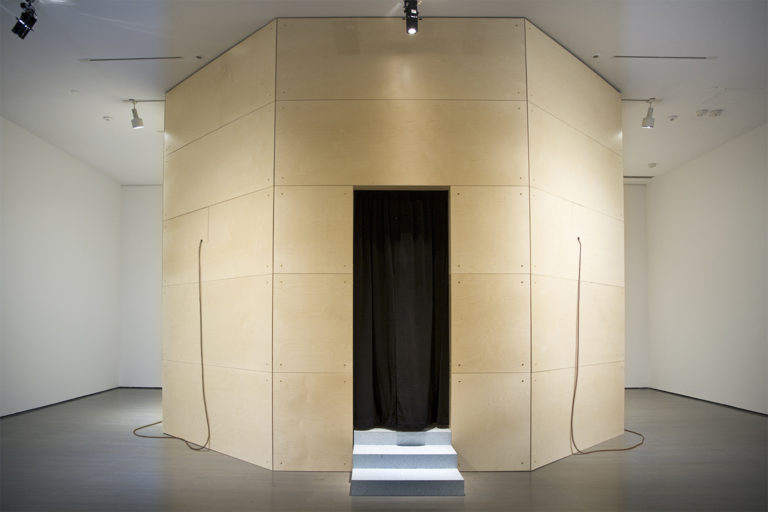 The website operates like a single-song radio station, fluctuating with the amount of listeners. Anybody can join the choir of I Heard There Was a Secret Chord and feel the universal magic of Hallelujah wherever they are.
Visit the installation's website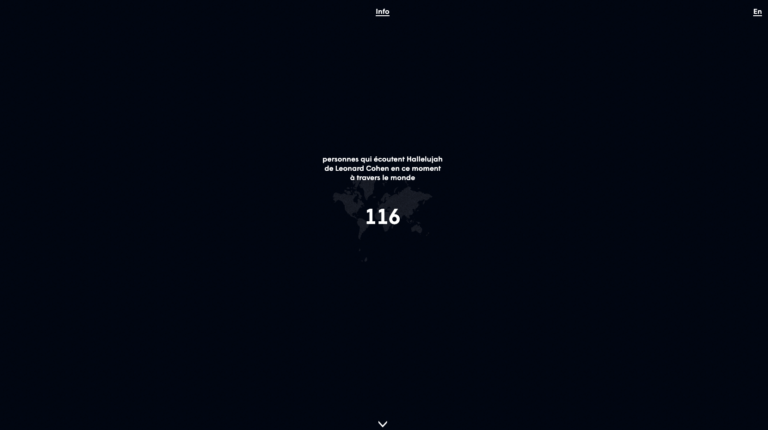 Creating an Interactive Choir
To create the humming version of Hallelujah and the interactive choir of I Heard There Was a Secret Chord, Daily tous les jours collaborated with seven amateur and professional Montreal choirs. For two weeks, we transformed Tetra SoundLab into a humming factory. The result was 635 recordings with 1250 different voices.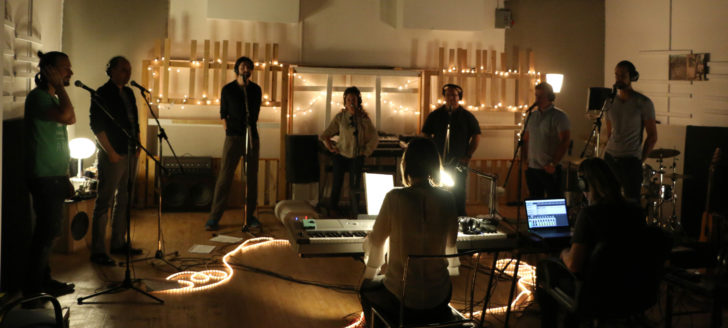 A Crack in Everything
Created in 2017, I Heard There Was a Secret Chord was a commission from the Montreal Museum of Contemporary Art in collaboration with the National Film Board of Canada. The installation was created for the Leonard Cohen: A Crack in Everything exhibition during Montreal's 375th anniversary celebrations, one year after the musician's passing. The exhibition is now touring the world.
Visit the MAC's website
To host I Heard There Was a Secret Chord in your city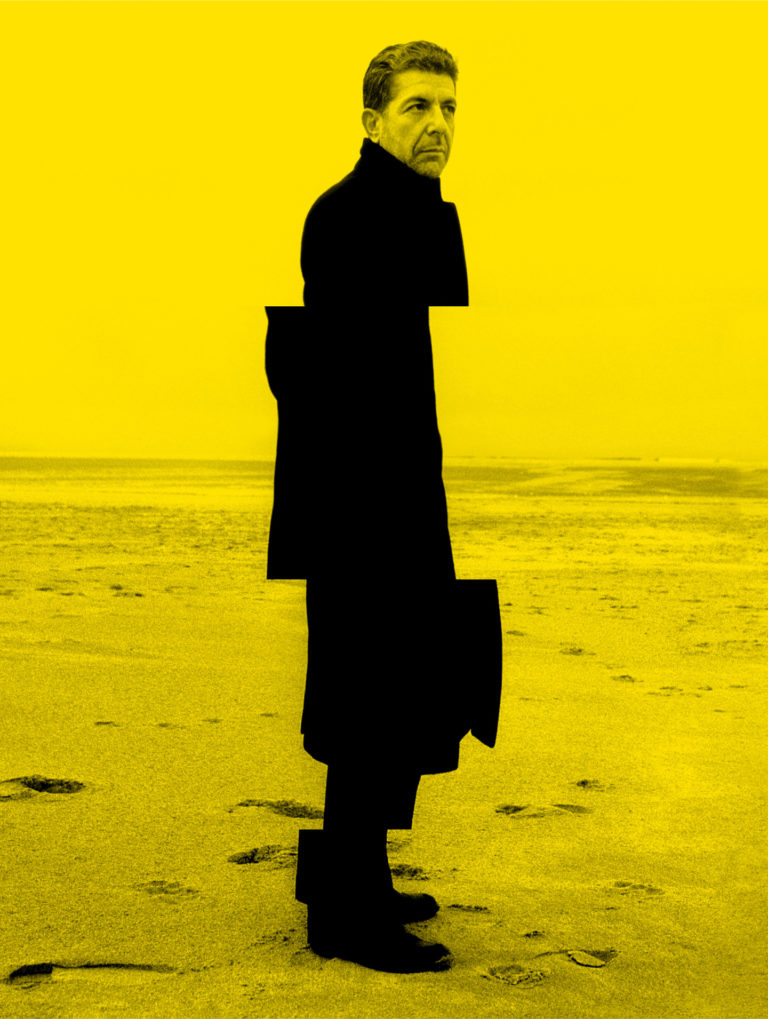 A Project By Daily tous les jours

A commission from the Montreal Museum of Contemporary Art in collaboration with the National Film Board of Canada.

Creative Direction

Mouna Andraos
Melissa Mongiat

Interactive Direction

Environment Design

Advisor

Sound Direction

Design

Technological Direction

Production

Studio Coordination

Recording

Patrick McDowell
Dominique Girard (Tetra SoundLab)

Choir Direction

Acoustic Consultant

Tim Hewling (Résonance TJL)

Fabrication

Filming, Photography and Editing

Website Programming

Advisor

Choirs

Ensemble Vocal Les Nanas de Montréal
Choeur Gai de Montréal
Ensemble vocal DivertisSon
La Serre
BAnQ
L'ensemble I Coristi de Laval

Special thanks to

Bianca Su, Bea Van Grutten, Spotify, Victor Shiffman and the MAC team, Hugues Sweeney, Martin Viau and the NFB team, Kelly Nunes, Guillaume Sasseville, Malcolm Remple

This project is one of the 200 exceptional projects funded through the Canada Council for the Arts' New Chapter program. With this $35M investment, the Council supports the creation and sharing of the arts in communities across Canada.