Conversation Wall
Interactive community board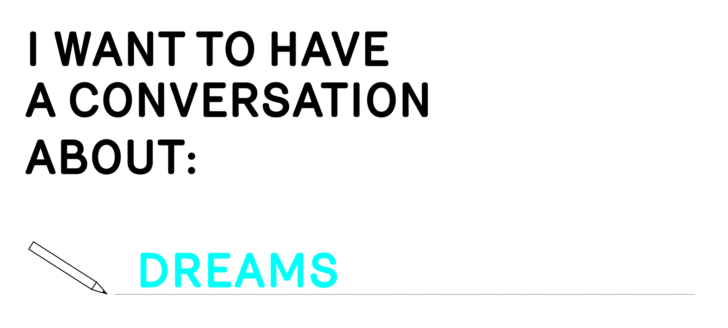 In 2014, South Lake Union in Seattle WA was one of the fastest growing neighbourhoods in the US. Changing at such a pace, a community barely has time to shape itself.
How can a community bank talk to a community that's not yet a community? Conversation Wall is an invitation for people to share what matters to them. After all, conversations can shape our economy.
"We want to have a conversation about ____"
Through the bank window, an illuminated sign invites passersby to fill-in-the-blanks by texting with their phone. Every submission is then displayed on the wall in real-time. Categories for submissions help frame a relevant conversation, keeping topics centred around the area where everyday life and banking overlap, such as growing, finding balance, thinking ahead, making connections.
Inside
In the bank, the conversation goes low-tech with postcards for staff to get input when meeting people around the neighbourhood, or as a thoughtful moment to end a tour of the new bank space. The visitors' handwritten messages are then displayed on a wall inside the bank. 
Curated events
Over the course of the 2 month long installation, we gathered all of the submissions to curate a series of events based on community interest.
This project was created for the Umpqua Bank's new South Lake Union store.

A project by Daily tous les jours

Creative Direction

Mouna Andraos
Melissa Mongiat
Kelsey Snook

Production

Technological Direction

Interaction Design

Environment Design

Creative Consulting

Research

Graphic Design

Programming

Patrick Piché
Nicholas Hogle

Installation

Documentation

Jonathan Gipaya
Chris Baron
Geoffrey Boulangé

Thank you

To the Umpqua team: Eve Callahan, Jeff Gardner, Lani Hayward, Valarie Hamm, and Mark Jacobs; to the SLU team: Garrett Lamarca, Amanda Ballance, Brenda Cuevas, Etta Heieren, George Wang, Huy Nguyen, Kiran Kumar and Olivia Nebeker; and special thanks to the people who graciously agreed to be interviewed: Robi Ganguly, Dennis Glavin, Emily Guadamuz, John Hamlin, Tim Hoefel, Michele Livingston, Alyssa Rose McCoy, Justin Renard, Jessica Schwind, Scott Tanaka, and Rachel Wan.