Micro-museums
Micro-museum prototypes to go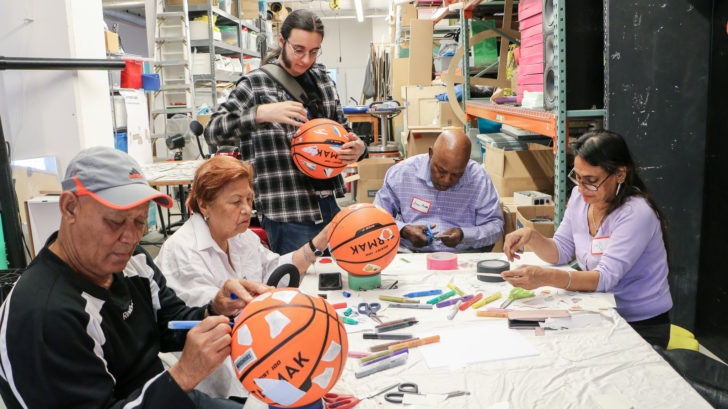 How can a museum reach out to communities that do not attend museums?
A co-creation exercise with citizens from four different Montreal neighbourhoods resulted in the creation of mobile and ephemeral micro-museum prototypes, designed to reach new audiences in their neighbourhoods. The micro-museums propose new ways of interacting with nature, demystifying environmental issues, while allowing a wider public to access a museum off-site.
Nature Near You
Space for Life brings together five Montreal natural science museums – Botanical Garden, Planétarium, Insectarium, Biosphère and Biodôme – with a mission to bring humans and nature closer together and to act to protect biodiversity.
As part of their initiative Nature Near You, Daily conducted a series of co-creation workshops reflecting the different stages of the realisation of a public installation; from initial ideation, to conception, to the development of the design and fabrication of prototypes. The workshops were conducted with groups from four Montreal neighbourhoods.The results reflect the issues and interests that each group wanted to address, relating to their realities and relationships to nature.
The Lost Streams of Anjou
In the form of a board game, this micro-museum originated from the citizens of Anjou's interest in the old waterways that once ran through the city of Montreal. Curious about the impact of urbanisation on the city, this group asked us: can we imagine a future where our lost rivers and streams, channelled and transformed into sewers, are once again above ground? How can the city be transformed to better cohabit with nature?
The Friends of Montreal North
Ambiance Béton is a micro-museum imagined by the citizens of Montreal North, a neighbourhood particularly affected by the phenomenon of urban heat islands. Here, the community calls for a joyful gathering space, while explaining a meteorological effect that disproportionately affects immigrant and low-income populations.
The Saint-Laurent Compost Compote
Do you know what to throw in your compost bin? Can you shoot a basketball through a hoop? This group of (mostly) teenagers has created a micro-museum where games are the perfect excuse to learn about nature. The basketballs represent waste to be thrown out – or not! – into the « compost bin » basket.
Saint-Leonard's Nature Haven
As a reminder of the benefits of nature for our mental health, the sensory bubble, imagined by the citizens of Saint-Leonard, is an invitation to take a few minutes to breathe and take care of ourselves. This neighbourhood wanted to celebrate the power simple moments in nature have on us since our relationships with nature and natural environments in cities is becoming increasingly rare.